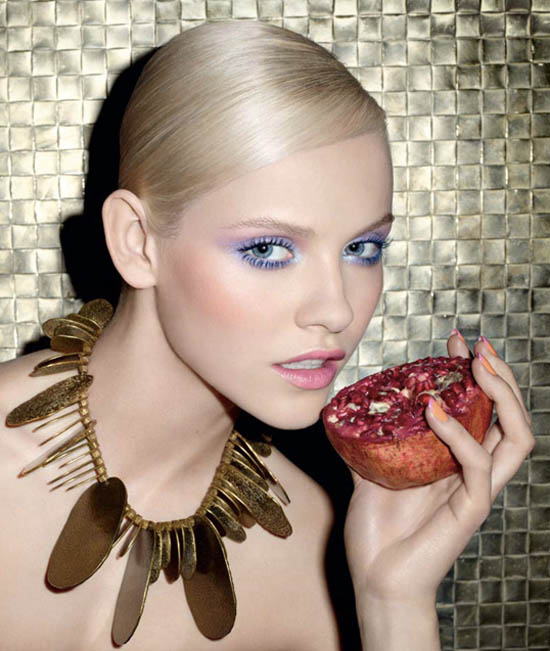 A model eating a pomegranate (but not really eating it as that would WRECK her makeup and sure she'd get juice all down her top and seeds in her teeth), shows us how the pieces in the Candy Face collection work together.  We never knew we wanted Candy Face before: now we'll be MAD for it
Forget Poker Face.  It's SO over: now that we've seen previews of the new collection from YSL for Spring 2012 we're all about Candy Face.
With more pop than a bowl of Rice Krispies and more juicy fruity shades than a bag of Chewits this collection is for the girl who loves colour and isn't afraid to use it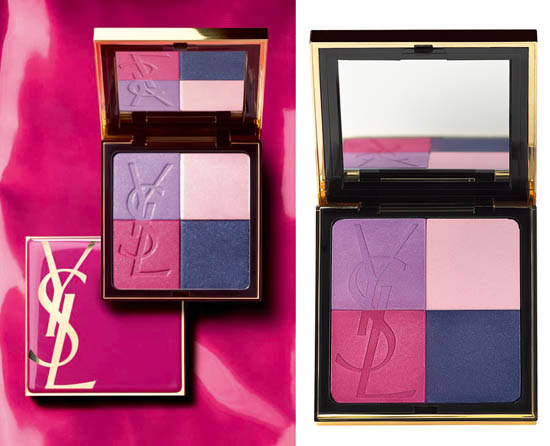 The star of the collection for me is undoubtedly this showstopping beauty: Vinyl Candy Palette (€55).  Packed with four delicious shades (look at the pink!  and the blue!) YSL have gone all out and changed the colour of the palette case itself to a vibrant raspberry pink.
This is an absolutely gorgeous piece of kit and I can't wait to get my hands on it for a proper looksee.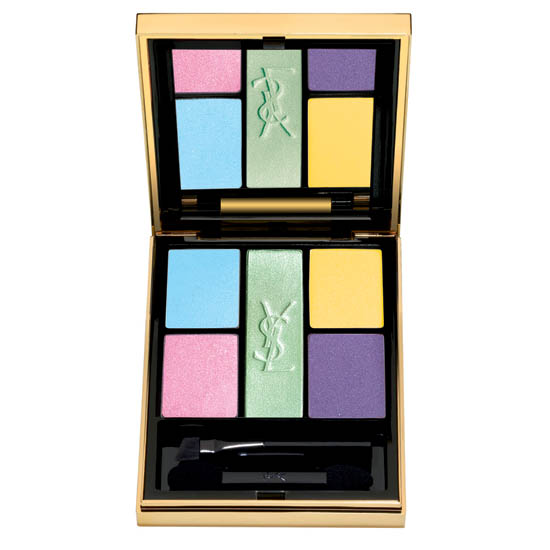 Ombres 5 Lumieres (€57): acid brights that you can use to give a subtle wash of colour or really layer to get a total zing.
Advertised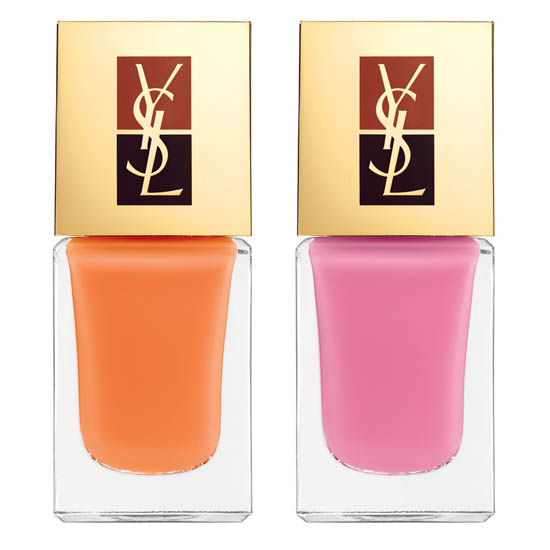 Manucure Couture No 8 (€38).  Dayglo fabulous - both of these colours look amazing.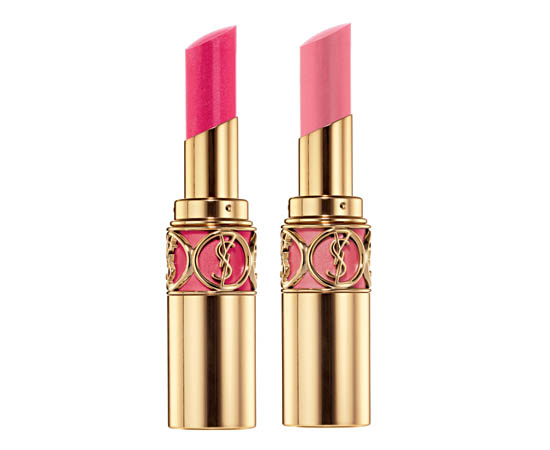 Oooh ah Paul McGrath - LOOK at this baby!  Rouge Volupte Perle No 116 (€32, left).  (Read more about our love for the Rouge Volupte lipsticks and see Kirstie's mega stash of them and swatches.)
YSL say about the collection: "Fresh colors, melting textures, transparent effects: A manifest of sweet, springtime shades, created by Lloyd Simmonds for Yves Saint Laurent.
"The gleam of an infinite profusion of dazzling fruit jellies, translucent raspberry and wild strawberry, mandarin orange, melon, mango and persimmon bring a gorgeous flush to the Yves Saint Laurent woman's face. Her smile is as bright as shining sugared drops and syrups: shocking cherry, tangerine, grape and pomegranate, crystallized rose petals, mint and chocolate."
Right you are so.  I think we can definitely count this as one of our five a day wha'.
Advertised
What do you reckon - are you tempted?
Collection goes on counters from January 1st.