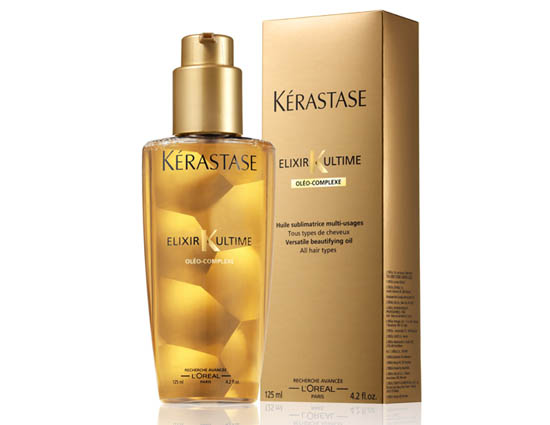 Shu Uemura, Orofluido, Joico, Moroccanoil and even Avon have all launched hair oils designed to cut blow-drying time and deliver luscious locks. So the only surprising thing about Kerastase launching their version, Elixir Ultime, €34, is that they didn't get to it sooner. Ok, the brand has used oil-tech in the past but this is, as far as I know, their first bottle of purely oil-related goop.
It sounds fab, however: Kerastase is very much a prescription line and your hairdresser diagnoses your issues and recommends products for you based on what your hair and scalp needs. This stands alone in the lineup and can be used across the board.
Containing pracaxi oil (no, me either. Apparently it originates from the Amazon and is packed with antioxidants and emollients, needed for shine), the much-vaunted argan oil (which is the main ingredient in Moroccanoil), maize oil, already used by Kerastase and which is rich in vitamins plus camellia oil, an ingredient Shu Uemura hair care is all over as well.  Fatty acids and vitamins are the key points about this particular ingredient.
Advertised
On paper, and going by those ingredients, this sounds like the best one  yet.  In use, much like its bedfellows, it's multifunctional: use it as a pre-conditioning treatment before a wash, as a leave-in conditioner, to tamp down flyaways or to help with the blowdrying process.
Have you gotten on-board with hair oils yet? If so, what do you think of 'em?