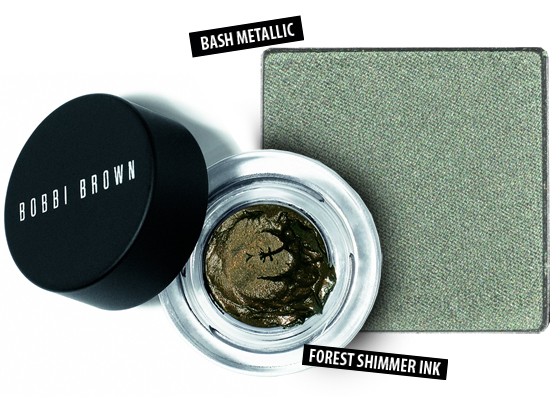 On counter now is Bobbi Brown's Ivy League collection, which is mostly made up of pencils for eyes and creamy lip crayons. But there are a couple of other little gems in the lineup, and they're both for eyes.
First up, I tried the new Forest Shimmer Ink Long-Wear Gel Eyeliner, cos y'know, I just love Bobbi's gel liners. They're superb. This is lovely - a really good pick for day, it's flattering to my brown eyes and colouring, being a khaki shot through with a little gold shimmer. Very pretty on too, and perfect for anyone who's bored of brown but finds black too harsh. A find, and it's joining the permanent collection, so sing hosannas for that.
Next up is Bash Metallic eyeshadow. OH lordy. Lordy lord. Limited, so if you want it, buy it this second. Again, I like this so much because it's perfect for my colouring and suits brown eyes beautifully. On the eye it's a deep, forest green with just a hint of metallic shine - not shimmer, y'unnerstan. It's gorgeous solo but will give a really new take to a smokey eye, and this is my pick of the pair. It's been slotted into my custom compact for regular use, and I'm planning weekend looks around it with a vengeance.
Advertised
Both cost €22, and are on counter now.