 Lip powder is the latest beauty innovation to come our way from - you guessed it - South Korea. But now we can get them this side of the world.
Throughout 2017, lipsticks got more and more matte. All the well-known brands and new brands launched their own versions in many colours and shades. But the latest thing in lips is bringing the matte thing to a whole new level.
You won't be surprised to read that lip powder isn't a brand new invention. You also won't be surprised to read the formulation was conjured up in South Korea. Now, Clinique has released its own version. We got our hands on it and have the down low on what it's all about.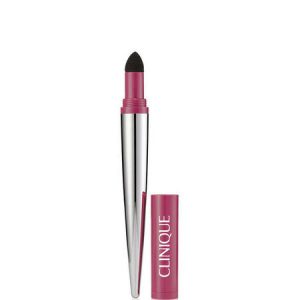 Advertised
Clinique Pop Lip Shadow Cushion Matte Lip Powder €20
The formula is truly a powder and when first applied it is exactly that - so be careful! Like all powders, it has the tendency to get all over your clothes and on parts of your face where you might not want it. (And on that note, you can totally use this as a blush, too). However, it doesn't stay powdery in the way that, say, a bronzer does. When on the lips, it acts more like a stain.
The applicator is an anti-bacterial treated sponge, so despite the powdery-ness, it's surprisingly easy to use, and totally buildable so it can be worn subtly or you can build it for a fuller more defined look. Even though the formula is lightweight, the pigment is exceptional and very precise. It's long-lasting - when I tried it, it stayed put all day long, even after eating and drinking - and it didn't flake or transfer. As to be expected, lip powders are very drying, so if you suffer from dry lips, already this may not be the product for you. You can help the situation by wearing a hydrating balm underneath - Clinique recommends this - or topping up the powder with a lip gloss.