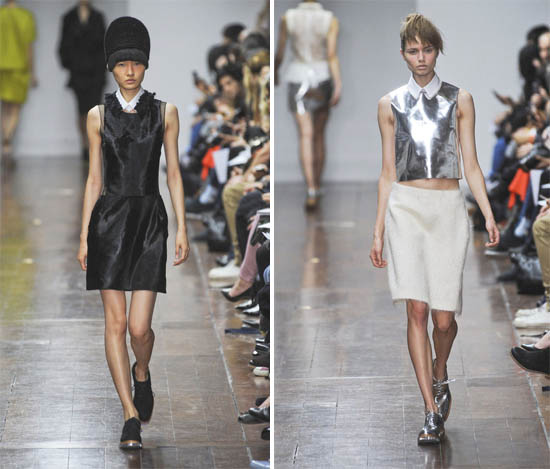 Out front - and yes, I was sitting on the Frow, huzzah - and as the lights dimmed momentarily and then flooded back up to full beams so the models could begin to walk Simone Rocha's AW12 collection down the runway, you'd have had no idea that up until about 20 minutes previously, seven out of 23 of them hadn't yet arrived for hair and makeup.
That was causing some nervous glances at clipboards but it's pretty much par for the course for the makeup, hair and nail teams who work backstage to put the beauty looks together for the shows.  Models are walking in other shows; they're at castings; they're running late because of terrible traffic - London seemed locked in stasis during Fashion Week the gridlock was so bad. They know the beauty professionals can handle it and will get the work done. "At the start of prep you might have half an hour to do makeup for a model," says Lesley Keane, senior Irish artist for Mac cosmetics. "At the end? Two minutes if you're lucky!" she exclaims.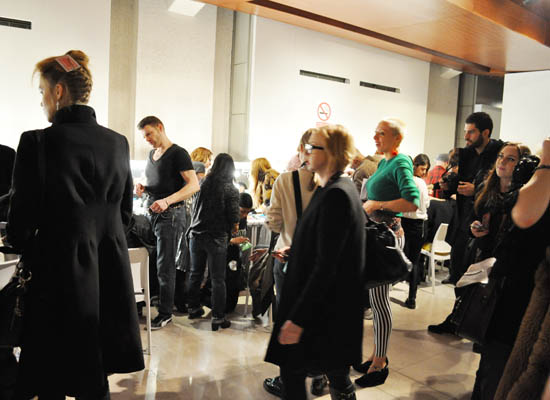 The mix backstage; not just models and makeup artists, there are videographers, photographers, PRs, journalists and more all milling about
Backstage, it's hot, it's frantic, it's absolutely people-packed but mostly what you get a sense of is that everyone's pulling together and the teams - who may never have met before  - instantly mesh into a working rhythm. It's chaotic, but it's controlled. I got to observe the prep backstage at Simone Rocha for a piece I wrote for the Irish Examiner's weekend section, which was published on Saturday (it's a great weekend supplement by the way, and my gems can be read each and every week!), and while I was there, I snapped some shots for the site too.
And it's true - a picture really does tell a thousand words. Here's how it looked backstage at Simone Rocha, between about 11am and 11.40am on Saturday 18th February - the show was due to begin at 12pm, and started at about 12.15pm.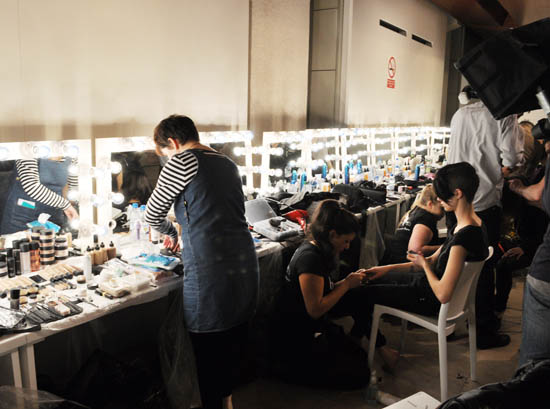 Mac's swathe of makeup counters complete with lights brought pretty much the only illumination into the room, which was in a basement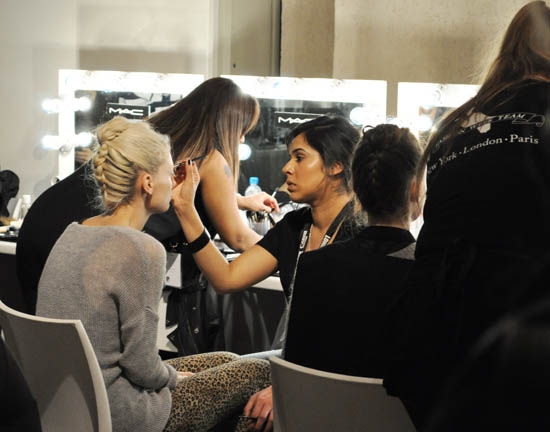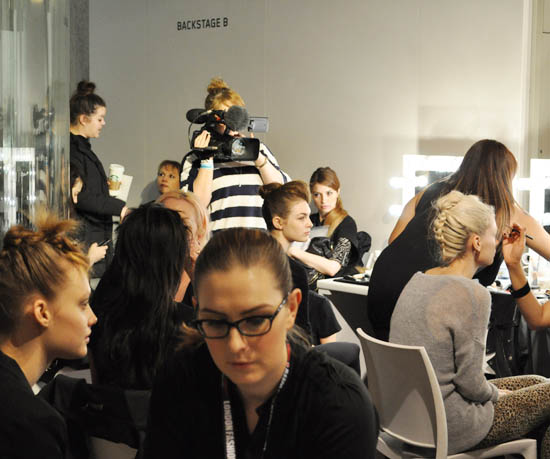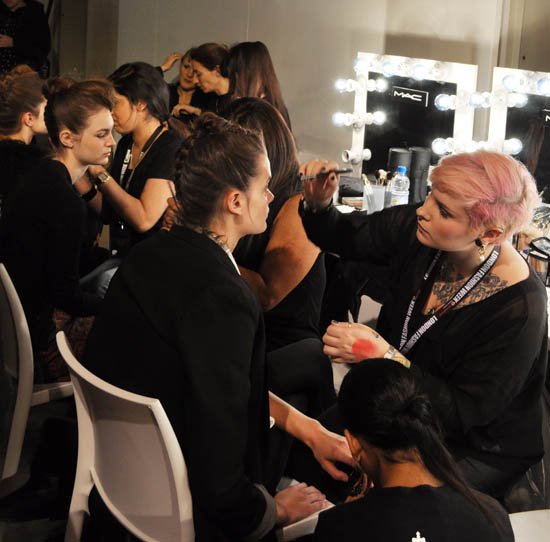 Mac makeup artists at work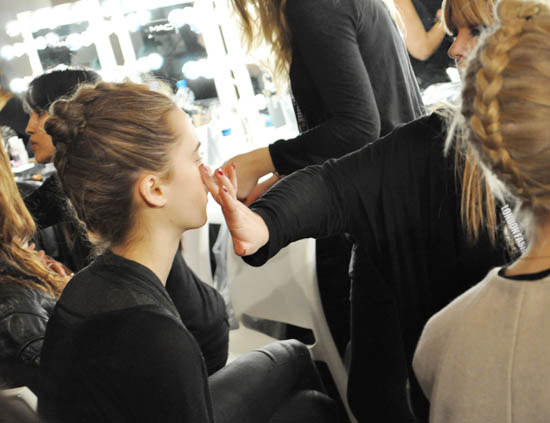 Advertised
Lesley Keane puts the finishing touches to the look for the show. Created by key artist Shinobu, it's inspired by Ireland, an outdoorsy beauty that's deliberately not too pretty or makeuppy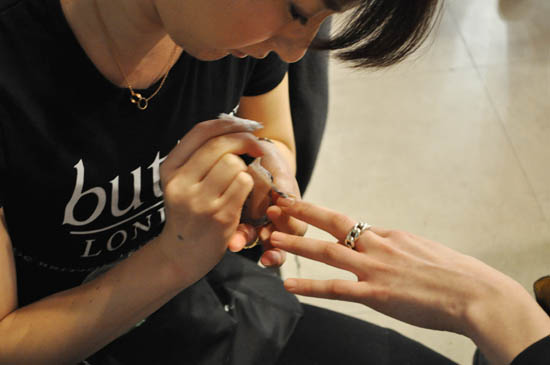 Butter London were on nail duty; they were simply painted with coat of base and that was it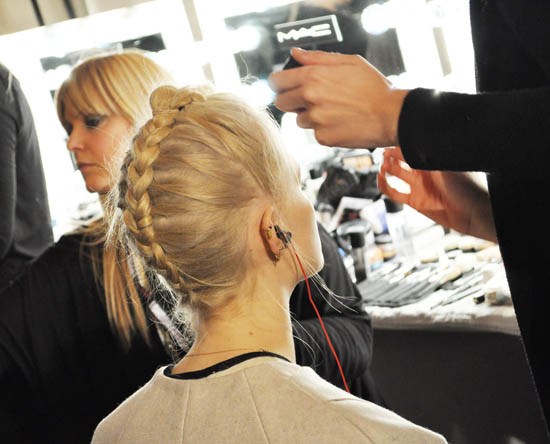 And a look at the hair. Bumble & bumble were on call here and the spec was braiding and a piece at the front pulled out and texturised, like a Connemara pony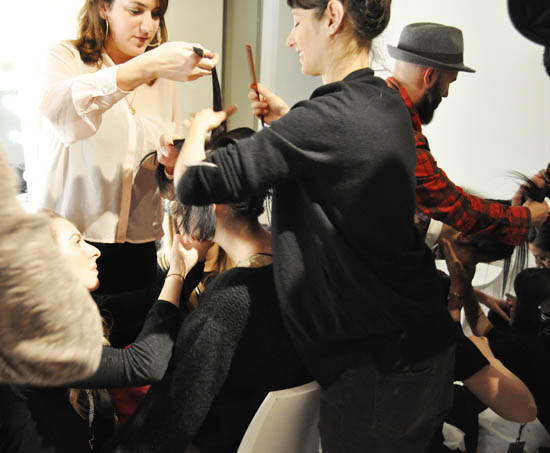 Things start to hot up and the teams coalesce with hair and makeup working together to get the girls ready as quickly as they can. This team has two on hair while the Mac artist kneels to do the model's makeup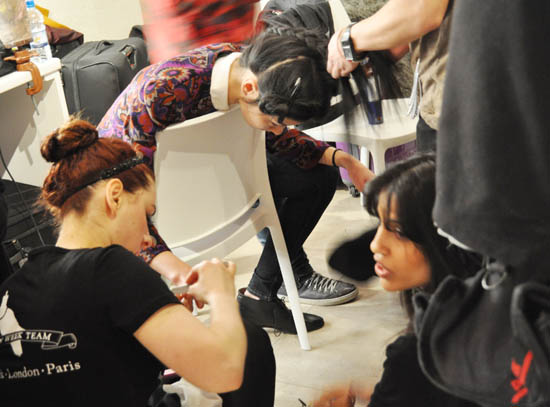 Again, time is tight and the pressure is on. In order to have the model prepped, she's leaning forward in a chair to have hair braided while nails are painted and a makeup artist works from below. Par for the course? You better believe it!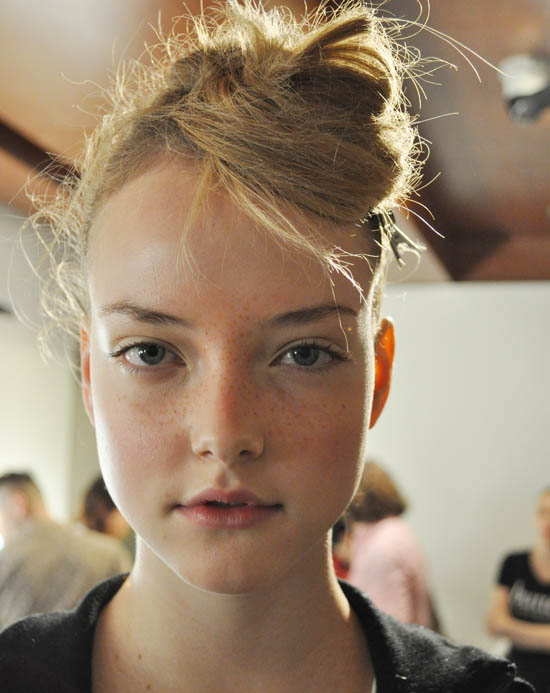 The finished look. It's an Aran Islands kind of beauty, reckons Lesley Keane. Very understated, flushed cheeks, freckles and clean skin dominate. Studio Sculpt foundation was used, Cremeblend Blush in Tea Petal was patted across the cheeks and bridge of the nose and freckles were added in. Rocha brought in some models from Ireland, including Danielle, above, to walk in the show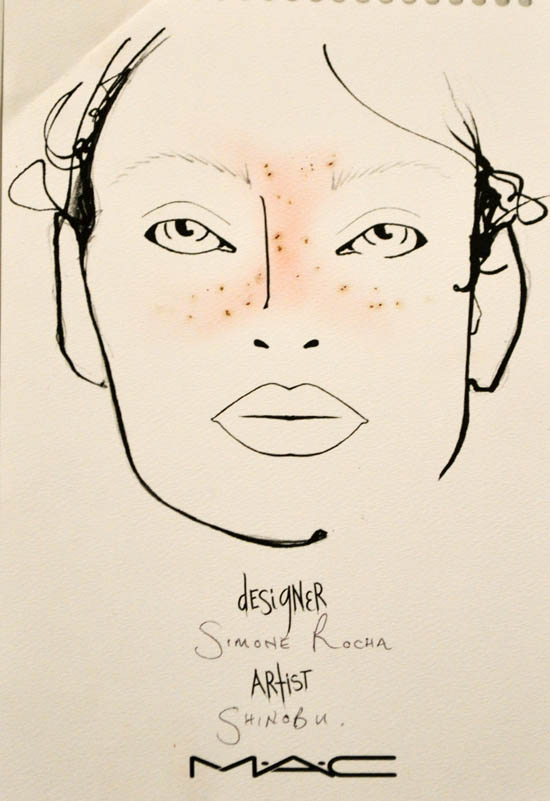 And the look for the Simone Rocha AW12 show, designed by Shinobu for Mac
Advertised