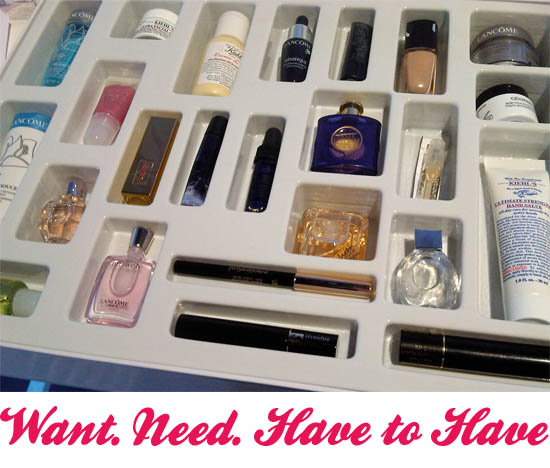 I'm not a jealous person, but last year when I saw news on UK blogs of the L'Oreal Luxury and Selfridges super-clever box of Advent calendar-related beauty tricks, I will put my hands up and admit I totally felt a black-hearted stab of rage. Why do we never get these amazing things, I wondered? Why is Ireland always left out? *Foot stamp, full-on pout*
Last year, the L'Oreal Luxury Advent Calendar was exclusive to Selfridges and contained luxury sizes of products from brands like Lancome, Kiehl's, Shu Uemura and Giorgio Armani. And oh boy, oh boy it looked brilliant. With 24 products hidden behind doors to open and gasp at in the run up to the big day, this would make any cosmetic cravers year. But lets not kid ourselves: no one's actually using it as it is intended. This is proper luxury gifting, the ultimate stocking filler for a beauty buff or a really amazing pressie for a sister, best friend or mum. It's flippin' fab.
And for 2011, Brown Thomas is bringing it to Ireland, where it'll be the exclusive stockist. OH YES! OH HAPPY DAY! Landing on September 17th, the L'Oreal Luxury Advent Calendar will cost €90 and you will need to be down there quick smart if you want to bag this box packed with delights like Kiehl's Creme de Corps, YSL Rouge Pur Couture, Lancome Genifique, Shu Uemura Cleansing Oil, Emporio Armani Diamonds, Lancome Tresor and tons more.
Advertised
Do you want it? Oh, I know I do.
Pic credit: British Beauty Blogger