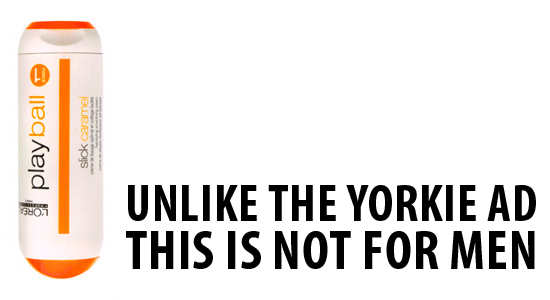 "Here, this is for you" I said, handing over a tube of L'Oréal Professionnel Play Ball Slick Caramel, €17.20, to Himself without giving the label a second glance.
It was an honest mistake - for one thing, this stuff comes in a matte white cylindrical container with glossy bright orange ends. Very haircare-for-boys looking, I thought. And since the focus of a lot of the Play Ball line is to add texture and hold to shorter hair, I suppose I automatically assumed that this was a product unlikely to be suited to my longer locks.
But, eh, actually it's a straightening and smoothing aid for medium to long hair, as I realised when the offending article was returned to me toot sweet and I gave the instructions the once over. Ah right so, Ted.
The contents of the tube are as white as the packaging, a non-sticky gel cream formulation that smells a wee bit sugary sweet. L'Oréal Professionnel sez: "Apply Play Ball Slick Caramel Smoothing Cream to towel-dried hair before blow-drying or over the lengths and ends to smooth before straightening." I sez: When applied, Play Ball Slick Caramel Smoothing Cream sent me into a tailspin of complete and utter panic. From mid-lengths to ends, my hair looked like it'd been dipped it in a deep fat fryer.
Advertised
And not one where the oil had been changed in living memory.
Post-straightening, however, it was a different story. Lovely, glossy, super straight gruaig that told flyaways to eff off was mine, all mine, without a hint of chipper hair. Used on wet hair before drying, it was a similar story - any kinks seemed to just fall out magically and hair was left straight with only the very minimum of effort. I pretty much just blast dried it, without a nozzle, only using a brush in the final moments.
Sorry for misjudging you so terribly, Play Ball Slick Caramel...
(P.S. - Is it just me, or does "Play Ball Slick Caramel" sound absolutely filthy yet strangely delicious..?)