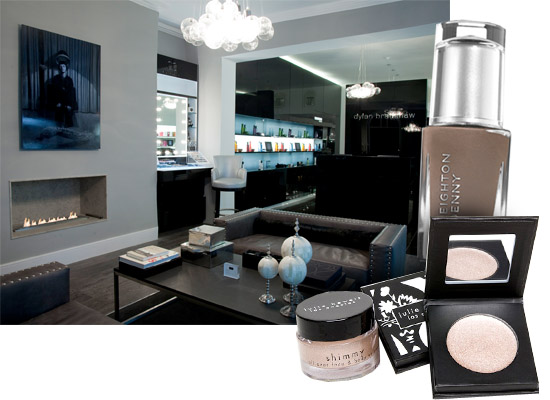 There's a new kid on the block that is Dublin's hair and beauty mecca, South William Street: Dylan Bradshaw has upped sticks from Johnson's Place and taken his operation down to a three-storey Georgian Building just past Powerscourt on the Stephen's Green end of the street.  While business remains exactly the same in terms of quality of staff, service and products, it's all change everywhere else.
For starters, the new place is massive. I mean, 6,000 square feet massive. The waiting area seems the size of the entire old space and behind it opens out a really spacious salon area with glass-enclosed wash areas to the rear. If you're a regular you'll feel at home - the glossy decor from the old shop has been re-created here and a special mention has to go to the Christmas decorations, which are fab. Glass, glitter and ribbons; they're right up my street.
The move into such a big space means there's a few extra tricks tucked up the salon's (designer) sleeves: nails and makeup are now on offer and here's the thing - while I had my hair blow-dried, I had a mani. Yep. Sitting there with one gal styling and the other painting is not only the most time-efficient thing I can think of in terms of pampering but seriously, also the most special you'll be made to feel that day. Fab idea - oh and yes, it was a particularly good job. I did have to mind my nails but managed, after my treatment, to go to both the post office and bank and fiddle with my purse with only a small smudge to show for it.
Advertised
If you're not into it, you can have talons tended at the separate nail bar and there's also an in-house makeup artist using a hard-to-find-here brand, Julie Hewett. This LA-based line puts me in mind a little of Vincent Longo and the few bits I swatched before being whisked off to have hair washed and head massaged in a fancy light-changing massage chair, impressed with their depth of pigment, packaging and all-round fancy newness.
Dylan Bradshaw is not a cheap experience. It has always offered high-end luxury and while I believe you get value for money here - the cuts I've had have been fantastic and have grown out excellently -  you do need to spend to have the experience. But if you and your gal-pals have a few quid to spare this Christmas then there is a deal on offer: spend €90 and you'll each get a blow-dry, make-up application using Julie Hewett products and a Leighton Denny file and polish. Oh, and there's a glass of bubbly thrown in too. Sure you couldn't say fairer than that.
Dylan Bradshaw, 56 South William Street, Dublin 2, 01 671 9353; www.dylanbradshaw.com