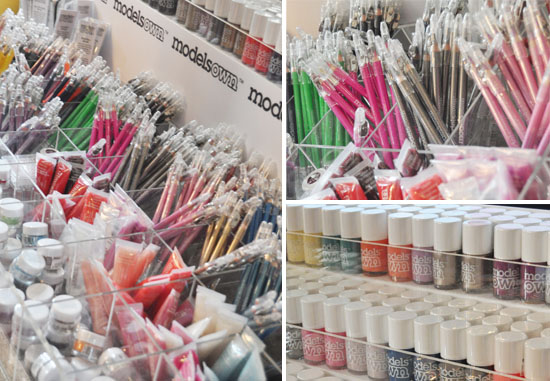 Good news for Models Own fans: the brand is already available here in selected Boots and of course you can pick up the odd bottle of polish or three as you see 'em at River Island and Urban Outfitters too. Now fashion distribution company Acappella has taken on Models Own and is pushing forward an idea that's already been successfully pioneered by clothing retailer Awear with their careful in-store nurturing of affordable beauty brands Gosh and The Balm. As a result, we'll start to see Models Own products appearing in boutiques alongside Acappella's clothing brands nationwide in the next few weeks.
More on individual stockists as we have them but as a rule of thumb, where you find the Rare, Fever, St Martins, Snob, Religion, Supertrash and Darling clothing brands, keep an eye out for Models Own too. Prices will be comparable to those at Boots and no, this won't affect Boots' distribution of the brand. (And yes, I see from the price list they'll be distributing two of the Wah Nails nail art pens in black and white for €9 a go).
Advertised
This marks a new direction for budget beauty, taking it out of traditional pharmacy channels and pitching it towards the accessories market - and for many of us, a new nail or lip shade is as much as Saturday essential as a new top or pair of shoes. My radar says it's a super-smart move and I look forward to seeing Models Own at a lot more locations very soon indeed.