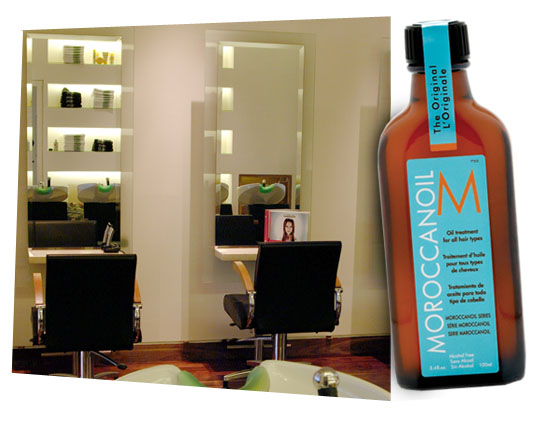 Moroccanoil is a product you'll probably have seen in celebridee "can't live without!" lists or in Stateside magazines or websites, but recently I've been coming across homages to it on the personal blogs of people with not a bit of interest in beauty. They've been declaring it their Number One Best Beauty Bit 4Eva! which piqued my interest good and proper.
I should tell you straight off that this stuff is not the same as Moroccan oil correctly written with a space 'n' all, which is what pure argan oil is sometimes called - this is a branded consumer product, and while it does contain argan oil as its star ingredient, there are other ingredients in the mix too.
Clear as mud, yes?
Anyways, much like Orofluido oil, it's supposed to be good for softening and de-tangling thick or unmanageable tresses, restoring shine to dull or lifeless locks, enriching damaged hair, reducing frizz, eliminating brittleness, reducing drying time, speeding up styling time, washing the dishes and putting them away too.
Moroccanoil with no spaces has been introduced to Ireland in the last couple of months by Zeba, so I headed along to their South William Street salon last week to see what all the fuss is about. Although the actual oil treatment itself is the cornerstone of the brand, there are other products available too, including a suits-all-hair-types shampoo and a restorative mask, both of which were used on my gruaig before the oil was applied to my towel-dried hair.
Advertised
Only a really small amount of oil was used, maybe the size of a two cent coin. Application is a cinch - divide hair into thirds, as though you were going to plait it, then rub the oil between palms before distributing through hair working from ends up through mid-lengths... and roots. Yep, seriously. There should be very little oil left on your hands at this stage, just enough to tame flyaways and frizz without weighing hair down (sez she who fuh-reaked out completely as her stylist made for her scalp.)
Once my hair was blowdried, it was damn near so shiny that I could see myself in it. It was super-soft, completely frizz-free, but, weirdly enough it still had volume at the roots. In terms of styling, Moroccanoil just offers memory hold, but I found that was enough to keep hair straight and sleek - even after being tied up for a couple of hours the following day, it didn't have that annoying bobbin mark across its length and there was no next day limpness.
Now, silicone-haters should be aware that there are various -cones on the Moroccanoil, which is part of what makes it so good as a sleekifying frizz fighter but may not be for everyone, and it is a dedicated hair product. If you're after more of a natural multitasker, you could always give pure argan oil a whirl.
Moroccanoil is €38; a blowdry costs from €30-€35 with a Moroccanoil treatment adding €15.  Salon Zeba, 60 South William Street, Dublin 2, 01 671 6444; www.zeba.ie