 There is nothing more real in life than the fact that things don't equal love, and that experiences are far more enriching than any material objects that we might own.
But for those of us lucky enough to celebrate with our Mums this Mother's Day, I think it's important to take time to put some thought and conscious effort into showing the Mums in our lives a little extra love and care. Every Mum is unique, and each loves something different and yet every single one deserves something special this Mother's Day. And yes we may still have two full weeks to go but getting ready is certainly something to at least start thinking about.
So let's get those gift guide juices flowing!
Advertised
Just like us daughters (and some sons), no Mum ever has enough beauty products. With summer somewhere on it's way, it's nice to spruce things up with a pretty injection of summer scents and colours.
Add a little glossiness to her life with Charlotte Tilbury's lipgloss or perhaps after the cold of winter her hands need a little Cherry Blossom TLC from L'Occitane. I've yet to meet a Mum who doesn't love a candle (or 20 million) and whether she's a makeup addict already or not, this starter brush set from Nima Brushes is to die for.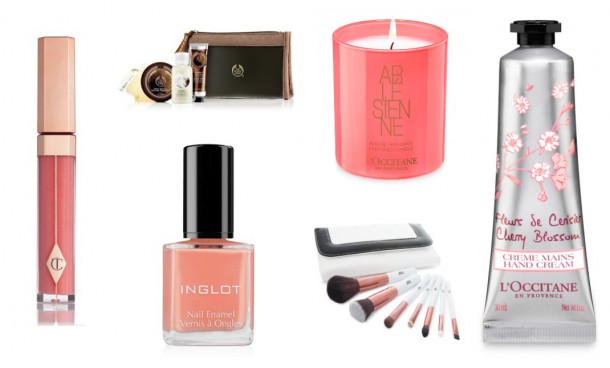 Lip Lustre in Portobello Girl, Charlotte Tilbury €22 // Coconut Beauty Bag, The Body Shop €19.95 // Limited edition scented candle, L'Occitane €28 // Cherry Blossom hand cream, L'Occitane €10.50 // Nail polish in shade 355, Inglot €10 // Starter brush set, Nima Brushes €45
Giving your Mum something on her special day is certainly all about the thought behind it. So why not dig out some old photos of you guys and make a little photo collage? A trip down memory lane will no doubt put a smile on her heart. This three-piece frame set from Penneys is perfect for such projects; not to mention the stunning silver frame by Paul Costelloe for her to put on her desk or by her bed.
I also love the idea of this beautiful optic perfume bottle which you can fill with her favourite scent, it's a truly elegant way to display and store perfume. And for those who love a darling little espresso in the mornings, who couldn't help but adore this cute set to start any day of on a chic note.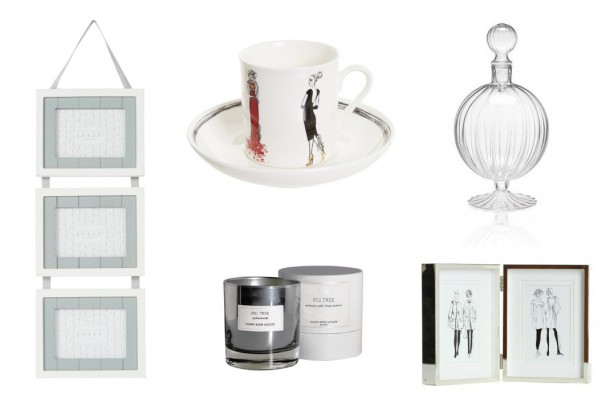 3 Hanging frames, Penneys €5 // Fig Tree candles, Cloon Keen Atelier €40 // Optic perfume bottle, Marks and Spencer €20 // Lady Espresso set, Paul Costelloe Living for Dunnes Stores €6 // Silver photo frame, Paul Costelloe Living for Dunnes Stores, €20 
Now for the Mum who loves a little glamour. From heart key rings to statement sunglasses the choices out there are endless but I've narrowed them down to these few fabulous pieces.
Chic makeup bags and dreaming-of-St.Tropez hats are a plenty at Parfois right now. Perfect outfit accessories like this neck bow from River Island is something I honestly might just end up having to borrow from my Mum's wardrobe this year.. And who wouldn't steal their Mum's heart with a sparklicious necklace from Irish based jewellery company My Shining Armour.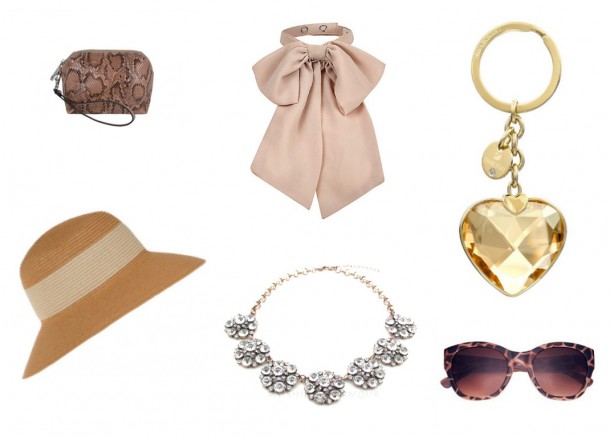 Summer snakeskin cosmetic bag, Parfois €14.99 // Beige neck bow, River Island €10 // Heart key ring, Swarovski €69 // Turkey hat, Parfois €17.99 // Stella necklace, My Shinning Armour €36 // Chunk tortoiseshell effect sunglasses, Next €32
I hope this helps in getting the ball rolling and the ideas flowing.
So tell us, are any of our choices catching your eye or what will you be getting the lovely Mama in your life?
Rebecca tweets from @hautesofabulous and you can find her Facebook page her. Find her on snapchat @hautesofabulous