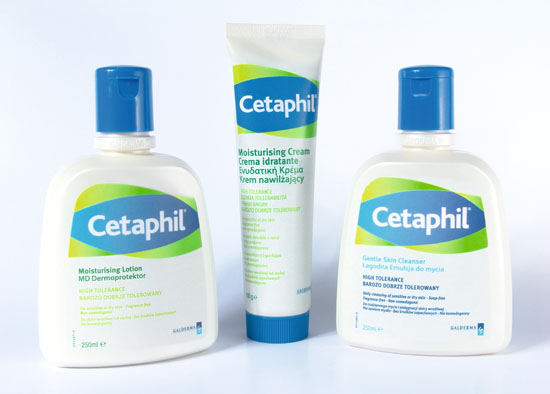 If you've got problem skin - acne, rosacea, eczema or psoriasis - and you've been to a doctor about it, chances are you've been recommended the Cetaphil line, which includes a Daily Facial Cleanser that's a big hit in the states. You can buy the brand here too and in all honestly it's a bit of an unsung hero if our comments when we mention it are anything to go by.
So I'm guessing that a lot of you will be interested to hear about some new additions. Joining the lineup is a trio of products that are designed to suit all skin types, including the four problem issues mentioned above. I'd also tip the nod to these as a good bet post laser or skin peel, when the face can be very irritated and intolerant of your usual products. Anyone with normal-formal, oily or sensitive skin will apparently get on grand with these too.
Gentle Skin Cleanser, Moisturising Lotion and Moisturising Cream are at pharmacies now and are fragrance-free (though they do have a sort of a medicinal scent to them), non-irritating and non-comedogenic. Skin-friendly pH, non-greasy textures and performance are other hallmarks of this brand, and what you don't get with glam packaging you tend to make up for with skin-kind results.
Advertised
The cleanser will take off makeup and can be used with or without water, and there are two moisturisers - choose the one for you depending on what your skin needs. The lotion is quite light, while the cream is thicker and can also be used on dry patches on elbows, knees, hands and feet.
So, prices? Cleanser and moisturising lotion come in at €14.86 for 250mls of product, with the cream costing €17.11 for 100ml, which is pretty reasonable considering the sizes, I reckon.