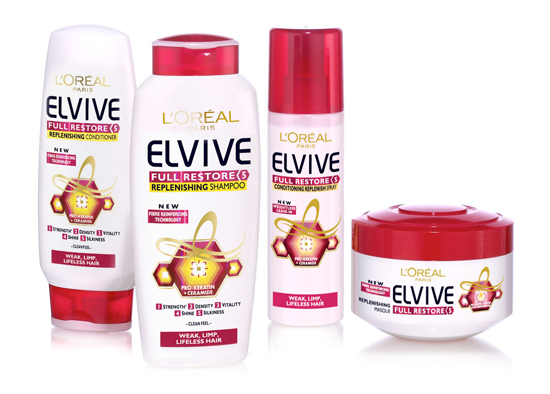 Unless you've recently been living in an enclosed order in the back arse of Siberia with no communications devices, you'll probably be aware that Cheryl Cole is L'Oreal Paris' newest celebridee spokesperson. (Or "spokesmodel" or "ambassadress" as they call her on the L'Oreal Paris website. The latter sounds like something that the ladies of Kildare East could have worn to The Ambassador nightclub in Kill circa 1998.)
Between the telly adverts,  her X Factor judging gig, and the music video for her new choon where she appears to be wearing Penneys' best pyjamas,  it's pretty damn hard to flip on the TV without colliding with Cheryl at the minute. So the first couple of times I saw her L'Oreal Paris ad, I mentally switched off.
Just in case you did too, let me tell you that the ad in question is for the newest addition to the Elvive range, Full Restore 5. It promises to transform weak, limp, lifeless, dull, straw-like hair into gruaig that feels strong, weightless, looks replenished, has a healthy-looking shine, and feels silkier. To do that, the shampoo, conditioner and masque in the Full Restore 5 line are chock-full of pro-keratin to reinforce hair and leave it better able to resist daily wear and tear, and ceramide to smooth the surface of the hair and add softness and shine.
Advertised
I've been trying and liking the replenishing masque, €7.99, which takes just one-to-two minutes to do its thang (love intensive conditioner types that don't take all day about delivering the goods.) Now, my hair isn't styled with some natural hair extensions à la Cheryl, so the masque didn't give me amazing volume or incredible length. Sniff. What it did give me was oodles of shine and silkiness without weighing down a single strand, and my hair definitely looked healthier.
Thumbs up.