 Urban Decay's All Nighter is the granddaddy of setting sprays. Now comes the next generation (and they don't disappoint)
A few years ago, setting sprays were something that only makeup artists used for wedding makeup or theatre. Now they have become a makeup routine essential for errbody.  We are all aware of the classics like MAC Fix + and the Urban Decay All Nighter, not to mention the NYX spray, a budget version that rivals the big boys. Setting sprays are makeup bag mainstays now, so there is a vast array of new and exciting releases that fulfil all your specific skin needs. You are going to love them.
If you're not totally on the setting spray train, you might want to read MAC makeup artist Terry Baker's thoughts on the matter. Some people still scoff at the thought of 'water in a can' but proper setting sprays can make a massive difference to your makeup routine. You can use them to refresh makeup (spritz on your mid-day face to break up your makeup, making it way easier to reblend); a good one really can keep your makeup in place for ages; and they can create a dewy glow, even on oily skin.
MAC has released a whole new range of its Prep and Prime sprays, that now include aromas, including Rose, which we have and love. We're fans of the Fix + range because the sprays are seriously refreshing as well as working hard to keep makeup in place.
But to show how far setting sprays have come, here are two new launches from Urban Decay that have got to be tried to be believed.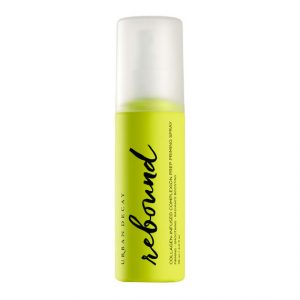 Advertised
Urban Decay Rebound Collagen Infused Complexion Prep Priming Spray €33
This is more than a setting spray. It's rich in collagen which firms and smooths the skin and provides intense hydration. It's perfect for use in the morning for skin prep, and throughout the day as a pick-me-up. The best part is that it will refresh yet won't disturb your makeup. It's rich in antioxidants and vitamin E, and with it's micro-fine mist goes on so finely you can hardly feel it (my favourite thing about it).
This is ideal for any skin types and is perfect for those who are looking for some additional hydration and radiance.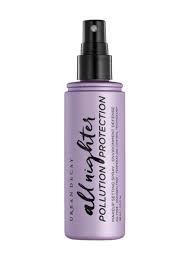 Urban Decay All Nighter Pollution Protection €33
Advertised
This is the superhero of setting sprays, especially if you are on the oily side. This weightless setting spray is infused with magnesium, zinc and copper to protect the skin against free radicals. (The Skin Nerd Jennifer Rock will explain why it's so important to protect against those pesky air gremlins.) Its time release temperature is the only one on the market and it actually lowers the temperature of your makeup to help it last longer. Your makeup will look like you just applied it all day long. Fans of the original will love this.
Do you use a setting spray or is it something you haven't dabbled in yet?