 The sacrifice between full coverage foundation and dewy skin may be a thing of the past
A couple of week's ago I met Terry Baker. Who's Terry Baker? What do you mean who's Terry Baker? He's an international makeup artist who was in Dubalin Towen with MAC to inform the beauty biz of the city on what's 'in' beauty-wise this season. I took a ton of notes, because when there's a paper and pen before me, I must. But here's his wisdom in a coupla handy bullet points.
SS18 marks the return of 'femininity'. Blush is way more important than a contour and highlight (but we knew that already)
Blush was seen at Simone Rocha, Paskal and Preen among other SS18 shows - and not just on cheeks, but on eyes and lips, too
'Twon't be a big smoky season. Instead, think more biscuity shades and hints of smoke
Liner is big this season; at Lanvin, MAC used the bendy part of the straw to create a deconstructed flick
Glitter is going to be grown-up and accessible this year, and everyone's going to be wearing it
Bright colours and red lips are good - but only with a 'refined' face
And that's what brings me to dewy skin. This season, the full-face Kardashian and TOWIE and Instagram thing will make way for a natural base. Impossible for people prone to blemishes, and basically those under the age of 21, right? Well, no! I saw hundreds of images of models whose faces MAC painted during fashion week and even though you could see that not all of them had 'perfect skin' they looked fresh and healthy and glowy. I flat-out told Terry that this is a look I could simply never do, what with my scars and redness and uneven skin tone and dark circles and lines and newly-formed pimples. He disagreed. With the right technique - and products - anyone can look dewy, even if, in reality, they're far from it.
Advertised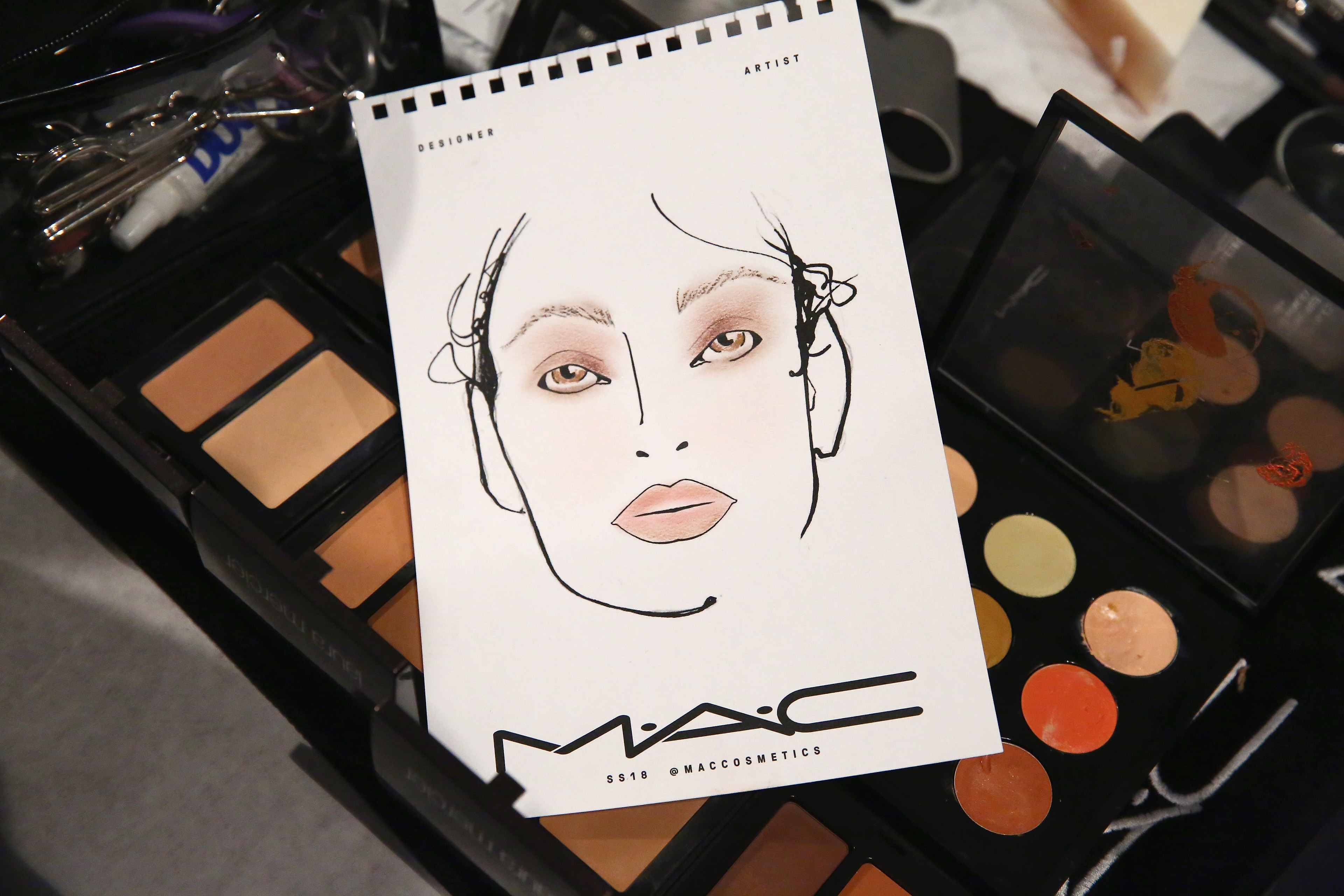 MAC's newest launches include the Fix + spray that is now available in four scents. But while you may have thought it's purely for fixing makeup at the very end, Terry recommends spritzing between every layer. I tried it. It worked. Instead of the Fix +, I used what I already had, the Urban Decay All Nighter Setting Spray, and it still worked. You can use any spray you want, just keep on spritzing.
Not only does it add a hint of a dew, it stops you from going overboard with your makeup. You see, it's better to wait to apply for a minute or so in between your spritz, so it dries and bit and so you can monitor how much you're putting on. I have found more of my 'true' skin shines through now, with the main areas of concern disguised. I still use full-coverage foundation (Penneys at the mo), but I use less of it. It stays put, but it doesn't look trowelled on. And with the help of the setting spray spritz frenzy, it lasts for even longer and helps my otherwise dull-looking skin glow. I say 'helps' because I still use highlighter, but even wearing matte makeup, my makeup for sure looks glowier.
Now, back to my new bestie, Terry. He recommends MAC's new Waterweight Concealer for the heavy-duty heavy-dewy look. He says it's like a serum and is great for women concerned with lines. It dries matte, so there's no need for powder. Just spritz!
Advertised
You may also want to take note of this cheap 'n' cheerful 'n' easy makeup trick. In a conversation about skincare routines of old,  I laughed about Pond's Cold Cream cleanser, but Terry didn't laugh. Because it's in his kit! He uses it to create a sheen on eyelids and for a natural looking highlight on the cheekbones. There for you.