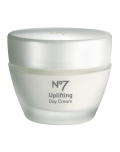 A month or so ago I went moisturiser shopping, as I'd run out of Olay and didn't want to use it again because of the animal testing concerns I had about the company.
I deliberately decided to get something mid-priced, and I was determined that it would come with an SPF and possibly have an anti-ageing component. After a fairly cursory search in Boots I settled on No7's Uplifting Day Cream, their most recently launched moisturiser and which ticked all my requirement boxes. It contains an SPF of 15 and they say it "visibly firms and redefines skin in 2 weeks".
Hmm. No it doesn't. No7 go on to claim that "it starts to lift and tighten as soon as you smooth it on, leaving your skin visibly firmer in just 2 weeks. Then, day by day, it chases away the signs of skin ageing, measurably reducing the appearance of lines and wrinkles, evening skin tone, fading dark spots and firming deep down, so your skin looks amazingly lifted, tightened and youthful".
Nah, it didn't do any of those things either. As far as I can tell, it doesn't do anything much, really. It's very unremarkable. It comes in unremarkable, cheap looking packaging, and in consistency it's a thick cream with a decidedly odd smell, which strangely transforms into a fairly pleasant smell once it's on your skin.
Advertised
It feels nice on and didn't clog my pores or cause me any problems, and really that's the nicest thing I can say about it. To paraphrase from 10 Things I Hate About You, it's not underwhelming, it's not overwheming - it's just whelming. Yup, this product whelmed me. If you want to be similarly affected, simply shell out about €22 next time you're in Boots.