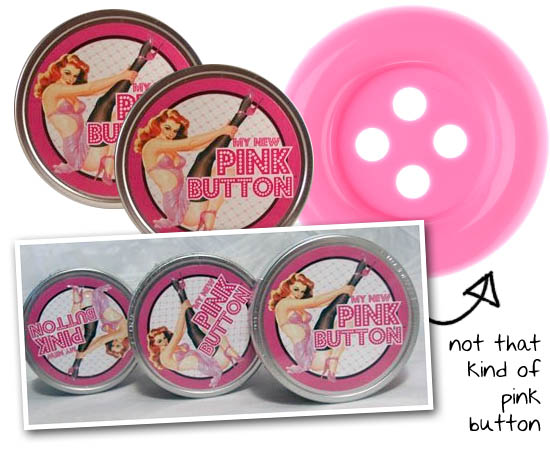 Whether you prefer to embrace or ignore Valentine's Day, there's no escaping the fact that 14th February is upon us once more. In honour of the day that's in it, I've put together a few helpful suggestions for anyone who's thinking of sprucing up of their undercarriage.
You are so welcome.
Cute as a button
File this under "Ah for FECK's sake", "Stuff I didn't even know I had to worry about", or "WTF?!" depending on your own personal organisational system, but just when you thought it was safe to go native again it turns out that there's a new way to artificially enhance the lady garden.
My New Pink Button, $29.99, is a temporary cosmetic colourant designed specifically to – well, I'll just quote the website directly for this – "restore the youthful pink colour back to your labia."
And as if it wasn't wonderful enough that such a product exists, it comes in no fewer than four shades so you can dial your labial pinkness up and down at will.
Advertised
Sadly, My New Pink Button doesn't currently ship to Ireland so it looks like we'll all just have to put up with our existing buttons a while longer. Now I dunno about you ladies, but I'm not in the habit of sitting around with a mirror between my legs to examine the complexion of my chassis so I'm expecting to get over the disappointment fairly quickly.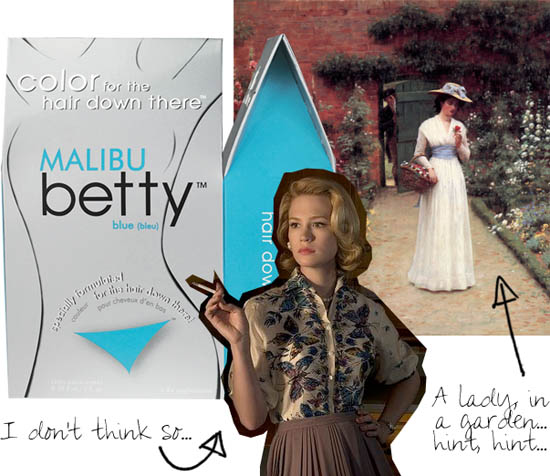 There must be a Betty Draper joke in here somewhere...
Like the carpet to match the curtains, need to cover some greys, or just fancy experimenting with crazy colour somewhere no-one need see? There's a product for that too, you know: specifically Betty Beauty, which is "colour for the hair down there."
Choose from a veritable rainbow of natural and decidedly unnatural shades, including turquoise which is, apparently, popular with brides for their something blue.
Betty Beauty retails for €25 a pop Urban Wax, who also happen to be the product's Irish distributors; call or email them for more info on a stockist near you.
UrbanWax, 22-23 Suffolk Street, Dublin 2, 01 677 8577; www.urbanwax.ie

Advertised
Bedazzling: Not just for '90s denim coats
If you prefer your lady bits bare with a bit of bling, you could always get busy with your tweezers, hypoallergenic body adhesive, and crystals for a spot of vajazzling (or get your beauty therapist to do it for you post-wax.) You wouldn't guess it from the number of people who will admit to having gone under the tweezer, but I'm assured by therapists who carry out the procedure that it's not just the of cast of The Only Way Is Essex and Tallafornia that are wandering around with a fannyful of diamantés.
At Waxperts it's called the Vegas, and getting your showgirl sparkle on there will set you back €8 as an add-on service to your everything-off Hollywood wax.
Waxperts, 78a George's Street Lower, Dun Laoghaire, 01 214 0757; www.waxperts.ie