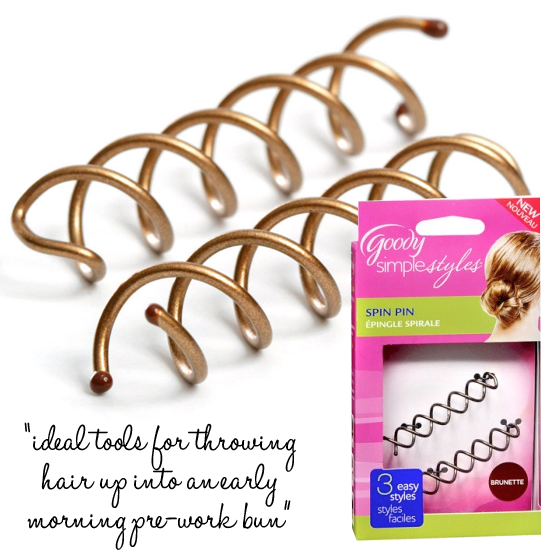 You know those women who can effortlessly twirl their hair up into a perfect (or perfectly imperfect) bun and seem to convince it to stay in place with a combination of willpower and a single hairpin?
Well, I am not one of them.
I am someone whose hair really doesn't do up unless it's got the aid of a whole lotta backcombing, several packets of bobby pins and hairpins, a can of travel-sized hairspray, and perfect weather conditions (one gentle errant breeze could easily cause the whole lot to come crashing down.)
I was pretty skeptical that Goody Spin Pins (around €7 for two) would be capable of replacing all that kit, but after a quick read of the instructions I decided to give them a whirl anyway. I wound my hair around on itself to form a bun (hair needs to be below shoulder length, FYI) twisted one of the double corkscrew shaped pins into the bun from the top and one into it from the bottom. At the end of that 30 seconds or so of effort, I had myself a tidy chignon that didn't budge all day.
Advertised
Colour me impressed.
Himself wasn't convinced, though. Apparently it looked very "corporate" and I reckon that unless your hair's very long or thick or you backcomb the ends like mad before using them, the bun you'll achieve with Spin Pins is always going to be neat and office appropriate rather than fashionably mussed and massive.
That's not necessarily a bad thing, of course: coupled with how easy they are to use and how securely they hold hair in place, it makes them ideal tools for throwing hair up into an early morning pre-work bun that can then be forgotten about for the rest of the day.