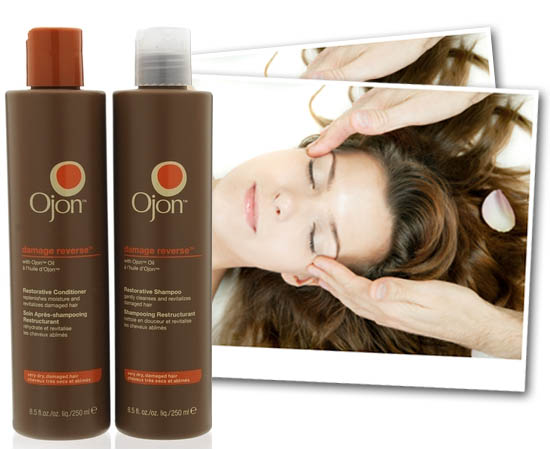 The end results that Aisling achieved with it sounded impressive, but knowing that it stank like an ashtray meant that I couldn't quite bring myself to try Ojon Instant Restorative Hair Treatment for myself. Their non-Silk Cut scented Damage Reverse shampoo and conditioner sounded rather more up my street.
Like all the brand's products, this pair is formulated with oil that's hand-extracted from the nut of the eponymous Ojon tree using ancient, eco-friendly traditions. This oil is apparently rich in essential lipids similar to those found in unprocessed, virgin hair and has been used for centuries by natives to sort out hair damaged by the sun. The Damage Repair line harnesses it to help restructure hair and restore strength, body, bounce and shine to locks stressed out by environmental, chemical, and heat damage.
Scent-wise, I'm delighted to report that there's nothing to offend: both shampoo, €24, and conditioner, €26, smell warmly botanical thanks to tonka bean, vetiver and benjoin. It's luxurious and rather than overpowering, and together with the packaging it contributes to a spa-like, unisex feel that puts me in mind of dark wood and candles and fluffy, mink-coloured towels.
Advertised
Wheat proteins and creamy coconut derived cleansers are combined with Ojon oil in the shampoo to smooth ruffled cuticles and unwind tangles, getting the repair process underway from the first lather. It deeply cleanses without stripping hair, removes all styling products with ease (including Himself's cement-like gunk), and rinses clean.
The conditioner feels fairly fluid in texture, but it packs a punch far heavier than its lightweight nature might suggest. This time around, antioxidant-rich Brazilian buriti oil and murumuru butter take centre stage with Ojon oil to nourish dry, brittle hair, seal in vital moisture, and create a buffer against daily damage.
They certainly seems to be doing the trick. I find myself reaching for the Moroccanoil far less often when I deploy this duo and while hair looked and felt smoother from the first use, there's definitely a cumulative effect to be had, too. My hair's noticeably shinier since I started using them, but I don't think they're overwhelming my fine strands.