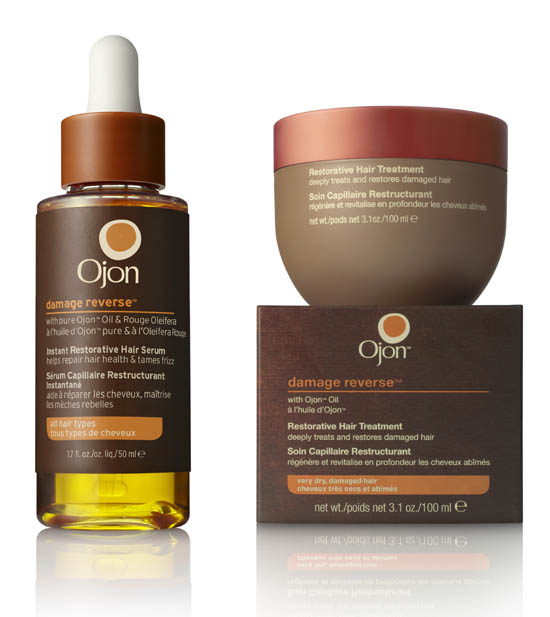 (will update with prices ASAP!)
Before there was argan there was Ojon: anyone who's into hair will remember the hysteria in the British glossies three or so years ago about Ojon haircare. For us, if we wanted to try our only option was QVC* and as a result I never bothered (if you did, leave us a comment!).
A small edit, at the time it centred around the Restorative Hair Treatment, a waxy-looking pot of brown gudge that promised much. Now though, Ojon's much more exciting and has been joined by extra products like shampoos, conditioners and masques for dry hair, products to add volume, address damage and help with keeping colour looking good for example, so the range is now fully featured and is for everyone regardless of issue.
Way before Moroccanoil and its ilk, this stuff was all about the magical properties of ojon oil, an elixir extracted from the nut of the American palm which the Miskito and Garifuna tribes in the Mosquitia region of north-eastern Honduras harvest for Estee Lauder, who own the Ojon brand. Lauder in turn have a sustainability programme in place with them (as they do with many indigenous populations for Aveda, another of their brands) so that's a nice start.
But is Ojon just marketing or does it work? It's interesting that it's coming to Ireland now once the hype has died down a little around both it and argan-based oils so we can look at it more objectively. What we do know from chatting on the blog is that Moroccanoil works - and if you're a cynic you'll say that's largely to do with the fact it contains whopping amounts of silicone which surrounds the hair shaft to sleek and smooth.
Advertised
Ojon is a more natural prospect. The oil itself - which slightly boringly is just palm oil, when you look into it - has been put to scientific test, and the Lauder group discovered "that Ojon elixir has a similar composition to the essential lipids found in unprocessed, virgin hair and can help compensate for those lost lipids. Once the missing lipids are reintroduced, hair instantly begins to help gain strength, and resilience. Hair breakage is substantially reduced. The elixir also repels water which can actually weaken and damage hair."
And also soon to launch is a product that a lot of you will instantly be familiar with: Instant Restorative Hair Serum is a bottle-with-a-dropper filled vial of golden goodness that's designed to bring magical smoothness to even the boldest of hair. Yes, we've seen a lot of these in the last 18 months, most recently in the budget sector from Vo5, but what's interesting about this one is it's not relying on silicone at all. Nope, the alchemical ingredient is Rouge Oleifera extract which they get from the fruit that surrounds each Ojon nut and is rich in antioxidants such as beta-carotene and essential lipids like triglycerides.
The proof, my pretties, is in the pudding. Or, y'know, the using.  Aisling has the original Restorative Hair Treatment pot to test and I have the new Instant Restorative Hair Serum to slip through my tresses.
In the meantime, you can check the range out for yourself at Arnotts in a few days time where they're quietly building an excellent edit of niche skin and hair brands in the beauty hall. Ojon will sit beside Frederic Fekkai, Philosophy skincare is also about to arrive and I nabbed myself some Japonesque brushes recently - head in for a gander.
*indicates an affiliate