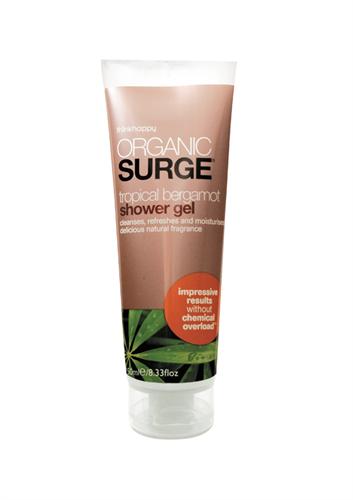 Yes, it's Part Two of my exciting series about organic shower gels. And judging by the comments I got on Part 1 I know that you're all dying to hear the next installment.
Nevertheless, genius is rarely recognised in its own time, so I shall continue on undeterred. (Sniffle)
While in Dunnes recently I picked up a tube of Organic Surge tropical bergamot shower gel. "Impressive results without chemical overload" it promised. Worth a try I thought, popping it into the basket, along with a pair of tights - which were the only things I actually came in for - and the other impulse buys which included a leopard print bra and a skirt which I may, or may not, ever wear... Well, they were all in the sale so that doesn't count... Does it?
Advertised
Well readers I can tell you - Organic Surge is gorgeous. The ingredients have been scrutinized and and certified by the Soil Association and are indeed organic and natural - and it smells totally scrumdiddlyumptious. Cruelty free, this brand is also committed to supporting charities in Africa.
Read more about the brand and its ethical commitments here.
I will definitely be repurchasing and I have my eye on the Citrus Mint gel next. At less than a tenner for 250ml you should get some too.