 When I heard about Parcel Motel I knew instantly that it was something that would interest lots and lots of you.
Why?  Well I know we all do a lot of online shopping at Beaut.ie and one of the frustrating elements of this shopping is the shipping charge to Ireland.  FREE UK DELIVERY! a site will scream.  And then when you click on the shipping charge to Ireland it turns out that your online bargain is a lot less of a bargain than before.  Or in fact not even a bargain at all.  I was asked to pay €29.90 for something recently so it was ho hum time as I wondered what to do?  I cancelled my order in the end.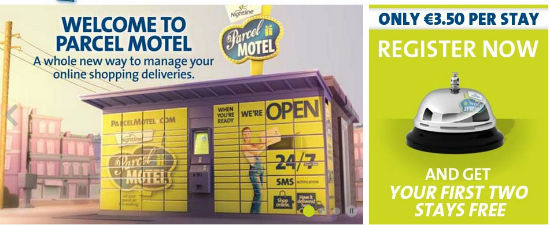 Which is where Parcel Motel comes in.  It's a simple but really clever idea: use their Belfast address when you order and then they'll speed your purchases down to us in the Republic. It only costs €3.50 which in my book makes it really Beaut.ienomical.
But that's not the only good thing about Parcel Motel.  You can use their service to get parcels from anywhere delivered to one of their secure lockers and pick it up whenever suits you.  For instance if your boss is not looking happy about yet another delivery from ASOS landing in the mail room at work, or if you keep missing home deliveries while you're out.
Advertised
Watch this video clip to see how it all works.
Corny, US Drive-in, there's a whole Eddie Rockets vibe about Parcel Motel which is hilarious.
At the moment they have a special promotion on - get your first two deliveries completely free - which is a brilliant chance to try the whole service out and see what you think!
Well what do you reckon?  Is this something you like the sound of and will you sign up if you do a lot of shopping online?  Or have you tried it out already?
Leave a comment and let us know!