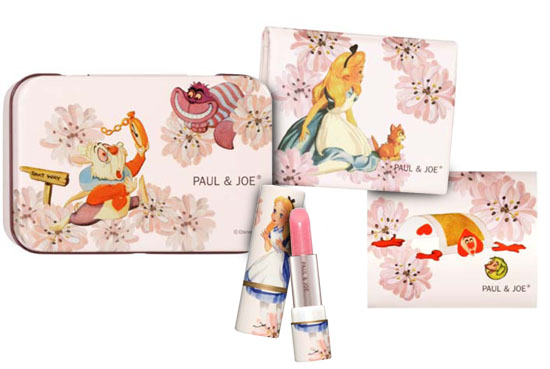 I love me a bit of Paul & Joe for the (imaginary) dressing table, so I do, and I'm very much looking forward to the upcoming Alice In Wonderland fillum, so it's no great shocker that I'm liking the look of Paul & Joe's Alice-inspired releases. A duo of limited edition tins in either powder pink or light blue, the sets will contain a blotting paper wallet with mirror to control any pesky shininess, blotting paper refills, and a lip treatment to condition smackers while adding a sheer dose of colour and shine.
In the pink tins, your lip treatment will be, erm, pink (Fantasy, above), while the one in the blue tins will be - no, not blue - sheer orange (Daydream - check after the cut for a close-up).
The packaging is a mash-up of the usual gorgeous Paul & Joe flower motifs and Disney's version of Alice In Wonderland, so it's nostalgia all the way - the pink blotting paper refill features one of the little hedgehogs that served as the Queen Of Hearts croquet balls - and I love it.  I do not, however, much like the price tag. Each tin will set you back what I think is a fairly whopping £25.
Gulp.
Advertised
Best just get one, then...
Paul & Joe's Alice In Wonderland goodies launch at ASOS.com on 25th February.