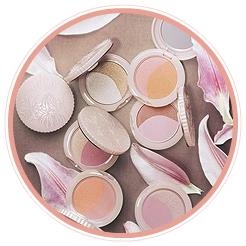 One of the gorgeous goodies in the enormous overflowing goodie bag that was bestowed upon myself and Aphrodite at the inaugral Fashion Bloggers Brunch the Sunday before last was a small pink floral box which contained a Paul & Joe face powder compact.
"Oh my God, look!" I squeaked at Aphrodite. (At this stage we'd already torn into the bags to assess the contents so there was really no point pretending to be cool and hip and not bothered.) I was thrilled silly with my new two-toned face powder, which has the distinction of being my firstest ever bit of kit from Paul & Joe.
If there is ever a dressing table in my life, I can tell you now that I will be adorning it with lots of their stuff! This looks good: the slim peachy-pink compact is slightly iridescent with their distinctive whimsical flower design emblazoned on the lid. It smells good: not sickly sweet or awfully artificial, just a lovely girly powdery scent. And it is good: mine is like the 5 o'clock in the pic above, a dusky pink on one side and a more beige-y mushroom-y tone on the other which can be used seperately as blusher and highlighter (and even eyeshadow) or swirled together for a more muted effect. It delivers a natural pop of pretty colour that lasts really well.
Advertised
I'm in love...