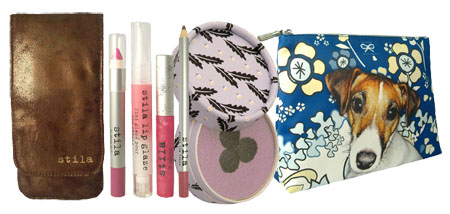 Over in England for Christmas I was once again amazed - and annoyed - at the incredible difference between the prices we pay here based on year old sterling-to-euro conversions, and the prices we're currently paying for the same goods if we buy online or in the UK. Snapping up a pair of half-price heels on Stephen's Day for a laughable £24.50 - about €25.50 (they would have been €40 here at 50% off) - I pretty much vowed to avoid paying full price for anything in a UK chain here until something happens about the pricing situation.
Which means, gals, it's a great time to buy online if you have a few spare quid post-Christmas. Here's a trio of treats from HQhair's outlet section that are a steal at the moment, and well worth splashing the cash on. While you may pay a couple of Euro more than the current rate would suggest, the fact that these three are all at savings from 35% off means the spend is worth it.
Stila's Scene 2 lip set was £40 and is now £25.99 - that's €29.75 in Euro money on the HQhair site. You get a suede pouch plus Lip Glaze Liner in natural pink, It Gloss in smashing, Moisturising Lip Glaze Stick in fig, and Lip Glaze in grapefruit.
In the middle is one of Paul & Joe's gorgeous face colour powders. You can use these on eyes, or pick out a shade to use as a brow or cheek highlighter. I adore these babies, and this Collection Sparkles Face Color Powder is a bargain at €8 - it was €16.
Advertised
Lastly, if you've wanted to get your paws on a designer bag, here's your chance. OK, so it might be a makeup bag you'll be getting, but at 52% off, this Anya Hindmarch Shelby Satin Large Grenada makeup bag is a bargain. It's now €45.75, down from €97.
That's not all that's on offer for bargainous moneys - there's a £1 section where Jelly Pong Pong and Pupa products can be got for €1.25 a pop, as well as lots more Stila, Model Co, Paul and Joe and Nails Inc goodies at great discounts. Happy shopping!
PS: there's still some Pout stuff on there too, ladies - so if you're after a beloved product, get clicking.