 Finding the right serum for your hair can be a difficult feat, but if you have hair like mine, this could be just the thing
With hair like mine, finding the correct hair serum is crucial. I have that kind of frizzy hair that's not quite curly and not quite straight. It's fine, but I have a lot of it. My hair type is easy to damage with brushing, colour, and heated tools. It also makes it more susceptible to product overload when you choose the wrong styling products.
That is why I wanted to tell you about my new favourite hair serum. The super skinny serum is perfect for hair types like mine. It tames the frizz without overloading the hair and making it look greasy. It can be applied to both damp hair before your blow dry or to tame the fly aways to dried hair. Thermal protection properties within the product protects against heat damage. And you know how much we appreciate a multitasking product!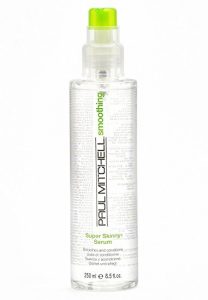 Advertised
A little goes a long way with this product so you will get value for money and fabulous hair for months on end. It's great for other hair types, too. A great tip for dry hair is to apply on hair before bed and wake up with hydrated and glossy locks.
It's expensive for a serum, and yes, there are cheaper options out there. I've tried so many of them, though, and this one is the only one that actually made my hair look healthier, which is no mean feat. As I mentioned, it lasts for ages and protects from heat damage, so it's just a really good product and worth the money.
It's not a brand new product, but it is a new discovery of mine, and I had to tell like-haired people all about it!