 Wow. How's that for turning EVERYTHING on it's head spectacularly. Everyone who has been consistently nailing their red carpet looks all awards season just didn't quite nail it last night, and vice versa. Let's kick things off with a positive, shall we?
Rosamund Pike has been looking questionable in all her recent red carpet looks, but she arguable was the best dressed last night in an absolutely jaw dropper of a Givenchy dress. Seriously, Rosamund, way to pull it out of the bag at the 11th hour. 

Everyone else, who has been looking pretty damn amazing, just didn't quite make the grade.  By way of example, here's Julianne Moore in custom made Chanel. I'm sorry, but compared to what she wore for The BAFTAS, The Globes and even The SAGS, this just - quite literally - pales in comparison. And, for some reason, it's also making her look wider than she is. No custom dress should do that...

Also looking every so slightly off was Reese Witherspoon in Tom Ford. The dress is extremely chic, but she just seems a bit washed out by it... 

Luptia Nyong'o who is usually breathtaking, unleashed her inner Pearly Queen in this Calvin Klein number. It left us feeling a little cold. 

Speaking of pearly, here's Best Actress nominee Felicity Jones in custom Alexander McQueen...
Anna Kendrick, while we love the style of her Thakoon dress, the colour is just a bit, well, peach for our liking. 

Emma Stone has been breaking moulds, busting out pant suits with oversized bows, so she seems a bit run-of-the-mill in this Ellie Saab ensemble - and that's saying something.

Still, at least Jennifer Aniston seemed to appreciate it, to the point of subtle straddling...

Speaking of Aniston, she looked sublime in sparkling Versace. Fair play to her turning up despite being snubbed nomination wise for Cake - she could've pulled a Leonardo DiCaprio and blanked the whole thing. There was no way in hell she was doing that...

Those also making us salivate (and not just because we've not had breakfast yet) include Meryl Streep looking effortlessly majestic, Laura Dern in Alberta Ferreti , Jessica Chastain in Givenchy, and Cate Blanchett in understated John Galliano...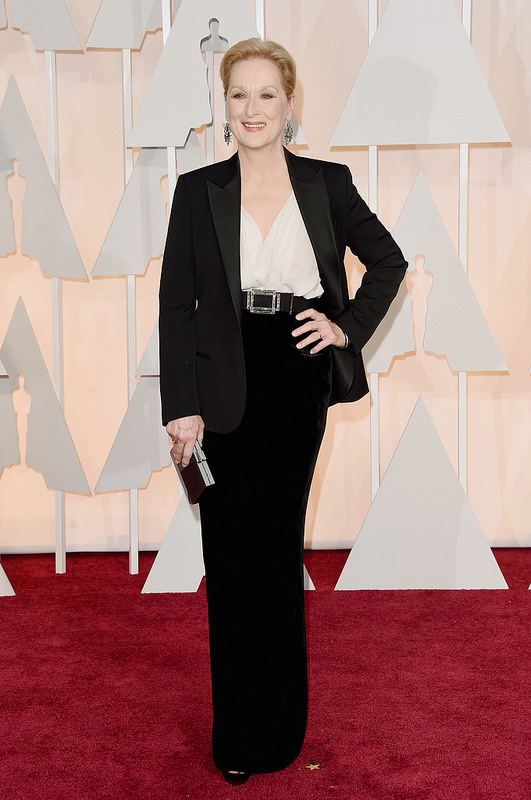 One can't but help think Blanchette's look was the one Scarlett Johansson was grappling for. This is Versace (by way of Batman's Poison Ivy)
While we're here, let's sashay off to observe some of the slightly more ridiculous offerings from last night. As ever Lady Gaga is on hand in Azzedine Alaia and a pair of Marigolds. It was good of her to drop by considering she was busy helping a cow give birth in some Alpine nunnery in the 1700s.

Kiera Knightly, in Valentino, kindly obliged by being her accompanying meadow... 
Gwyneth Paltrow brought a growth on her shoulder courtesy of this Ralph & Russo Couture custom-made dress. Yep, custom-made. That was requested. 

We've not taken the time to observe Best Actress nominee Marion Cotillard's Dior dress from the front, mainly because the back looks like a shower curtain. 

Also filed under slightly ridiculous is John Travolta. Just because. 

Not so much 'ridiculous' as just 'rather disappointing, we have host Neil Patrick Harris in custom-made Brunello Cucinelli. Those trousers are SO disappointing in a department store bought kind of way. In every photo I've seen, the right leg looks shorter than the left. At least his husband pulled out all the stops.
Also Best Supporting Actress winner Patricia Arquette looked a little meh in one of her best friend's designs (said friend being Rosetta Getty)

And Jennifer Lopez (she was there to present an award for some reason) looked uncharacteristically flat in Ellie Saab. It looks like sticky toffee pudding...

Falling under the 'We really like it, but we're not entirely sure why' category, we have Naomi Watts in snake inspired ode to Pink Floyd courtesy of Armani Prive, Dakota Johnson in Saint Laurent, and Rita Ora in Marchesa...

Although the side view is entirely bats...

Now...after observing that little lot, let's look at Rosamund Pike again...

Yep. Definitely the best dressed... although Jared Leto did come as his own swatch of blue sky on a rainy day, which is always nice...
Advertised