 Let's talk mascara. We are endlessly on the hunt for the latest and greatest new and exciting product launch.
When you find a great mascara, you literally want to shout it from the rooftops. It's always one of those things that everyone notices and it's the one beauty product that's hard to live without. Mascara finishes off an eye makeup look, it opens up the eyes when you are feeling tired; for most people, mascara is their one desert island product.
Usually, I bounce between a few brands. I have invested (you can't beat the Lancome Hypnose, you just can't), but mascara does not have to be expensive. I typically have a few mascaras on the go at the same time, all for different occasions and purposes - and all at varying prices. But, my current favourite is a bit of an all-rounder.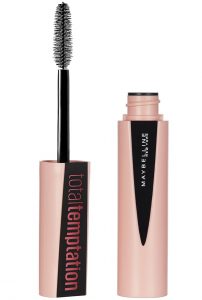 Maybelline Total Temptation Mascara €13.85
Advertised
Look at the brush. Isn't it a classic? The brush is a telltale sign of the type, and sometimes quality, so when I purchase a new mascara the first thing I look at is the shape of the brush. For my lash hair type, I love a brush with loads of bristles but not a huge wand. The average size wand is just right for my lashes and I usually like a tapered tip to help get into the roots of the lashes and the lower lashes without smudging. (We have a guide to all the different types of mascara wands; read it here.)
This formula is made with coconut oil for keeping the lashes hydrates and healthy; it creates soft and perfectly separated lashes, and builds volume and length without clumping. What I love about this mascara is that it's easy to remove it. It doesn't smudge throughout the day and leave you with panda eyes, and when you take it off at night, it comes off without leaving residue.
G'wan, Maybelline!