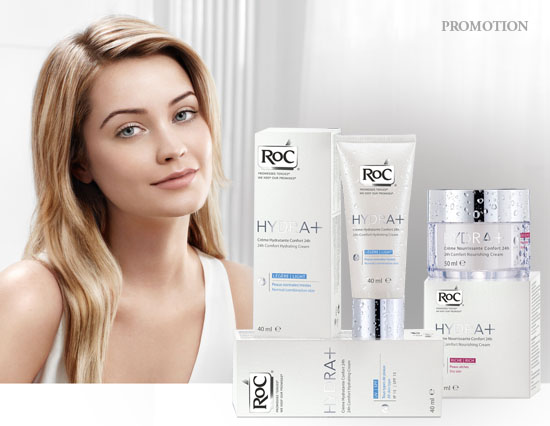 I'm mad into moisturizing!  But I haven't always looked after my skin - my mother was always nagging me for waking up with Panda eyes but I've learned my lesson now and take her advice to cleanse with RoC Energising Cleansing Mousse and moisturize every day with RoC HYDRA+ 24hr Comfort Nourishing Cream.
My lifestyle in London is pretty hectic - I often have to work late and then start early the next day so using products that work with my schedule is important - RoC's HYDRA+ Comfort Nourishing Cream is brilliant because I get great hydration for hours on end. I also love the RoC HYDRA+ Anti-Fatigue eye cream, it helps my eyes look more rested and radiant - That's two less things to worry about as I dash out in the morning not knowing when I'll be home again!
RoC is a French skincare brand; they're an iconic name with a great scientific heritage and a tag line that says it all - We keep our promises!  I've always been aware of RoC from when I was younger and used to raid my mother's dressing table, she always had great skin and I love being able to carry on the tradition!  You can buy RoC in pharmacies around the country and I love the feeling of trust you get from that.
Advertised
RoC's new HYDRA+ 24hr Comfort Nourishing Cream provides more than just moisture – it gives 24 hours skin comfort at a really affordable €17.95.
RoC Hydra+ 24hr Comfort Hydrating Cream – Rich texture for dry skin
RoC Hydra+ 24hr Comfort Hydrating Cream – Light texture for normal to combination skin
RoC Hydra+ 24hr Comfort Hydrating Cream – Light UV texture for normal to combination skin