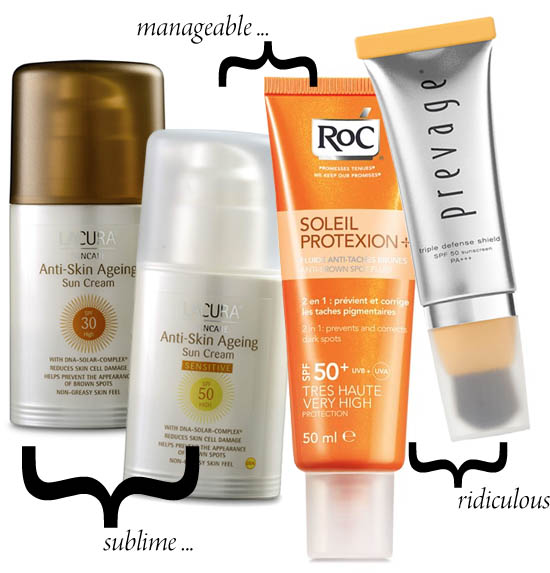 Brill! I thought a couple of weeks ago as the sun rared its head and temperatures peeked above 15 for the first time in ... living memory. Chicken legs and milky chests were bared, smiles were freely given along with opinions on the marvelous nature of the weather and then BAM! Hailstones and plummeting mercury plunged us back into the freezing cold-laden depths of winter and my lovely post on spring-suitable SPFs got shelved.
But hey. It's going to pick up again at some point (er, I hope), and best laid plans and all that.  So, lets take a look at a few that are new on the market that will pretty much satisfy all comers this year. One of the biggest innovations since last year's crop of facial SPFs has been the explosion of BB Creams onto the market and if you happen to find one to suit your skin and your pocket - I'm thinking particularly the Estee Lauder and Clinique offerings with their high values - then they'll do the trick just fine all summer long too.
If however, you prefer to layer your SPF with your foundation and skincare separately, then here are three offerings I'm tipping the nod to, across price-points.
CHEAP AS CHIPS
Aldi's Lacura Anti-Ageing Sun Cream, €4.99, comes in SPF 30 and 50 versions. Fragrance free, it's definitely one of the best-priced offerings out there but do note I don't have any information as to whether it offers broad-spectrum protection. What this means is if its levels of UVA and UVB protection are comparable - some creams offer more protection from burning as opposed to ageing; the ideal is a cream with good broad-spectrum protection against both, especially for the face.
Advertised
EDDIE ROCKETS
Roc make great suncare and this new iteration of its Roc Soleil Protexion+ 2in1 is an Anti-Brown Spot Fluid SPF50+. It's €18.25 and in addition to a high, broad-spectrum SPF of 50, it contains a trips-off-the-tongue vitamin C-derived technology called AA2G which helps to inhibit melanin synthesis. What that means to you and I is that this is one to look at if you're prone to pigmentation marks. Clever to put this into an SPF product too, as you're getting a double-whammy. It'll help fade existing areas and prevent new ones from occurring. Smart!
SHANAHANS ON THE GREEN
One for the ladies who lunch, breakfast and spa, Prevage's Triple Defense Shield SPF 50, €62, has a fancy paintbrush-style applicator so you can feel completely beauty-pro as you apply. In addition to mere broad-spectrum UVB protection, you get lots more protection for your cash.
There's Prevage's standard ingredient, idebenone, a potent antioxidant, and other ingredients to protect against a new environmental aggressor the brand has discovered. It says we need to protect skin from infrared A radiation as well as UV rays and Thiotaine, in Triple Defense Shield SPF 50, is just the ingredient to do it. Well fancy that, eh?
Advertised
What are you using right now, and will you give any of the above a go?