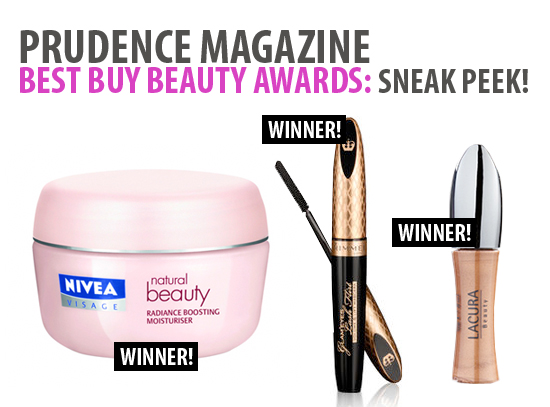 Prudence Magazine's best buy beauty awards took place last night at Dublin's Radisson Blu Royal Hotel in Golden Lane, and it was a bit of a benchmark for the whole bidness of beauty awards. Prizes were not handed out for posh, hard to find spends that an exclusive elite can only find and afford, rather, value for money combined with performance was firmly the order of the day.
Before we go further, let me disclose my interest: I  organised, edited and put together Prudence's fantabulous 32-page, handbag-sized awards booklet and I'm thrilled with the results. 11 judges tested over 300 products from 80+ brands during the summer to bring you a winner-packed resource that's full of beauty goodies at decent prices.
The magazine will be in shops from Monday, along with the lovely, glossy awards booklet, but for now here's a sneaky peek on three of the winners. Each of the 15 categories featured lots of products that were praised for various reasons, but one came out on top in each section because of its performance and value for money merits.
Advertised
In the moisturisers and serums category, Nivea scooped the overall prize for Natural Beauty Radiance Boosting Moisturiser, in eye makeup, Rimmel's Glam'Eyes Lash Flirt mascara was the winner, and in lip care and colour, the big surprise of the night was that Aldi's Lacura gloss topped the polls to win the category.
There's LOADS more where that came from but I'm keeping schtum! You'll have to wait till the mag is in shops to see who else featured - oh and to be in with a chance to win the winners too, and it's a prize worth over €2,500!