 The brand new Pureology Shine Bright Taming Hair Serum does a damn fine job of keeping hair straight from morning to night.
My hair is naturally on the curly side, but I hate the way it looks when it dries naturally. I also don't really like the feeling of having wet hair. Because my hair isn't naturally straight, it's hard to keep it staying straight throughout the day, no matter how much time I spend with the old hot irons. The only way to keep it straight is to use a good serum.
I have tried many in my time. Some are too sticky, some too hard and crispy, some too oily, and some make your hair feel like you can't even run your fingers through it (ew).
My favourite combination is one that is hydrating and gives a nice shine and feel to the hair but also has enough to hold the hair straight and not let it curl up.
Pureology
Advertised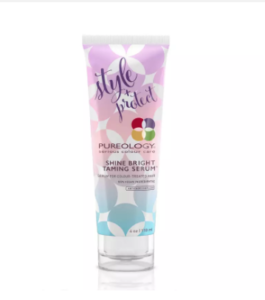 Pureology Shine Bright Taming Serum €28.20 
As a brand, I really like Pureology, and - yay! - their cruelty-free, vegan colour protecting serum formula is excellent.
This product has no smell as such, and when you apply it you really only need a small amount. It's so important to work the cream-like texture into your hands first so that it almost turns into more of an oil, and then work it into the hair. What I found about this product is that when you first apply it to your hair it almost feels sticky. When I initially applied it I almost had a moment of panic and thought I had read the bottle incorrectly or something.
Thankfully, after a few seconds, the product almost melts into the hair and you can feel it absorb into the hair and soften.
Advertised
There is no change in drying time but it definitely helps to smooth out the hair while you are drying. It did make my hair feel soft but had a good hold in keeping it straight but not in a sticky way. I'm not sure if it really did give a massive shine to my hair but I did like the how light yet effective it was.
Tell me your top hair care secrets. What serum is your favourite?