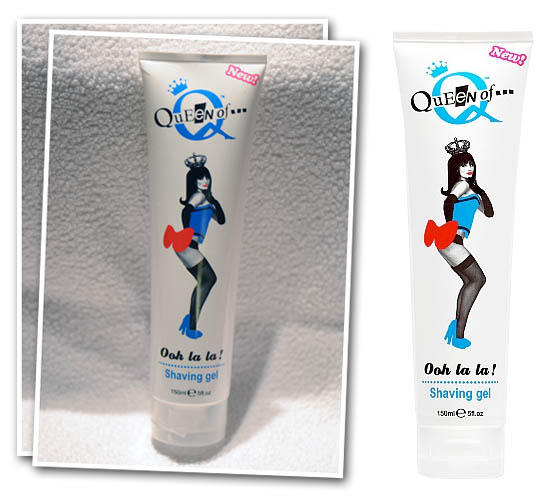 A recent launch from the King of Shaves line, I stumbled across the Queen of... collection in the supermarket recently and decided to try the Ooh la la! shaving gel, €4.56. The retro-style packaging with its pin-up girl was what first got my attention and the promise of a paraben-free, non-drying formula with no added fragrance was all it took for me to drop it into the shopping trolley.
An aloe vera-based formula, this shaving gel doesn't foam up like other gels, but it does feel silky smooth and adheres well to the skin, allowing the razor to glide over the surface of the skin without any nicks or scratches, even if you need to go over an area more than once.
Unfortunately, while the no added fragrance caught my attention, I neglected to read down the list of ingredients to see that in addition to tea tree oil, this gel also contains spearmint leaf oil. Besides the fact that I have a strong dislike for the smell of mint in anything besides toothpaste, I found the tingling after-effects of the menthol on my skin not to be very pleasant.
Advertised
Now menthol is often used to cool and relieve irritated skin, so this may well be effective for many people who aren't put off by the fragrance or the tingling feeling, but I didn't really like the effects, which lasted for quite a while after I'd finished showering and dried off.
On the plus side, Ooh la la! shaving gel did live up to its promise not to dry the skin out and I found I got a much closer, smoother shave than I usually would with the more foamy shaving gels I usually use.
The Queen of ... product line also includes a razor and replacement cartridges, as well as an addition shaving gel with a pina colada fragrance and is available from Boots and supermarkets now.