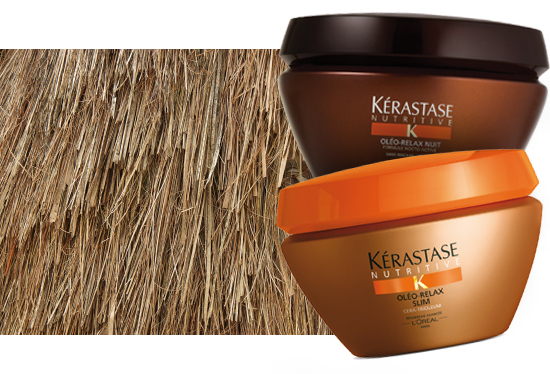 During the summner, we revealed how salon haircare brand Kerastase had decreed that hair, like models, can never be too thin. Their Oleo-Slim range is designed to reduce volume in big, massive barnets and reader Etaoin won the toss to trial the products, based on the fact she told us that "people say that i've 'lioness' hair! Help me get rid of my outer lioneness!"
How could I resist? Off went the duo of Oléo-Relax Nuit, €35.30, and Masque Oléo-Relax Slim, €35.30, to our gal for testing.
Want to know how she got on? All is revealed after the cut.
What did you think of the packaging and the instructions? Easy to use and understand?
After flicking through the leaflet for about five minutes I finally found the English instructions (out of eleven possible languages) and they were brief for both –  but straightforward and typically what you'd expect. I was promised strengthened, frizz-free hair which would easier to control and style.  The night treatment can be used before you go to bed on dry hair or before you towel dry your hair, and the hair masque is used after conditioning and left on the hair for 15 minutes and rinsed out.
I did find the packaging a bit tricky, the lid completely screws off and the mouth is quite wide so you need a good clear, big shelf to make sure the water from the shower doesn't get in. A squeezy tube would have been a lot handier. It's also quite heavy so not easily transportable. However it does look lovely in the bathroom cabinet.
Did you like textures and smells?
The smell of the masque is fresh and light, no problem there.  The texture was quite different to other masques I'd used before, it felt almost 'plasticky', and light rather than thick and oily.
Advertised
I found the smell of the night treatment a bit overwhelming if used on dry hair but I am more sensitive to smell than most. I didn't have this problem if I used it on towel dried hair.
How many times did you use them?
I've used this every week for the past two months. And there's plenty more left so you could probably get six months out of a tub.
How did you think they worked? Was hair 'slimmer'? Did you feel the products made a difference and did they do what they said they would?
After using the masque, hair definitely felt a lot slimmer. The first time I used it I let my hair dry naturally.  Gone was my triangle hair and associated frizz halo.  My hair usually has a slight wave with the ends turned up at different angles – meaning I can get never let it down without being blow dried or GHD'd within an inch of its life – but it was much smoother and straighter and looked very presentable in a pony tail the next day.
With very minimal blow drying - my total lack of coordination makes it difficult to do more - it looked smooth and perfectly wearable left down.  I was also surprised how clean and light it still felt.
I really liked using the night treatment before blow drying. In this way you can use it in the morning as well.  It gives a really crystal shine finish if used this way – almost like a salon glaze and super straight – great for a night out. Go easy with it if you use it on dry hair – less it is more.  It gives more elasticity when brushing as well and less breakage.
Value for money - are they worth the cash?
They are expensive but you will get a lot out of them and they definitely cuts out a lot of the hellish work trying to tame a lion mane like mine.
Advertised
If I had to choose one, I'd pick the masque, it made the greatest difference to my hair.