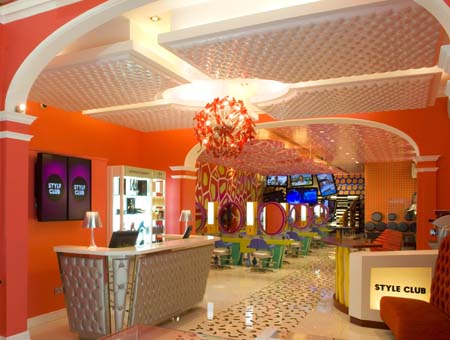 My trotters took me into the latest venture from Peter Mark yesterday.  Style Club, on Dublin's South William Street (heads up: there's a new branch at the Pavillions in Swords, too) is fast becoming my favourite design destination in the city, and they're really rather good at the business of hair, too. Staff were handpicked across the Peter Mark network to come and work at the salon, so you're getting the best-of-the-best hairdressing talent.
And they're nice. Really nice.  In fact, they're so copped on that when you arrive, you're asked to fill in a consultation card, much in the way you would at a beauty salon. Options include, 'Would you like tea?' 'Would you like coffee?' 'Milk with that?' 'Or how about soy?' You tick your preferences, and they take note. It gets better. One of the options - a gladly welcomed one, at that - says, 'No, I am not going anywhere nice for my holidays'. Check that box, and you're guaranteed a meaningless-chat free haircut.
I've been shorn recently so I went in to check  out their new hair therapies. Redken is the product of choice and between me and Wendy, the lovely gal looking after my locks, we decided that Smooth Down would be the order of the day for my frizzy mane. A wash, condition and blow-dry, the therapy also incorporates a special salon-only shot of shine serum.
Advertised
First, the wash: the best head massage I've ever had - I went in with a pounder, left with a clear head - took place in a reclining massage chair, which gently shiatsu-ed me as hair was attended to.  A condition and shine treatment completed this part of the job, and then I went and sat back in the chair, ready for my blow-dry.
You notice the sheen immediately - the cuticles of the hair are sleeked down which immediately helps with light reflection - but my hair felt far less scratchy and rough, making this a great instant fix for anyone who is driven demented by frizz or lack of shine. The damage? A blow-dry at Style Club costs €35, with the Smooth Down therapy adding another €15 on to the price. Worth it? Oh, I should say so, especially in the run up to Christmas or any big event - plus, until 13th December, there's 20% off all salon services.
The details: Style Club, 12 South William Street, Dublin 2, Ireland, 01 472 24 44, www.styleclub.ie