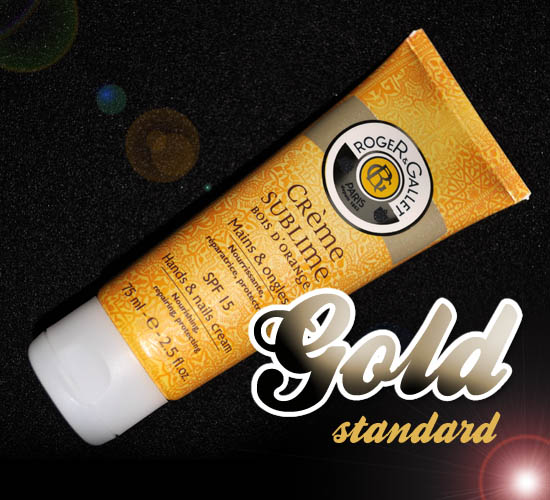 So that all my cards are on the table prior to really getting into this review, I should tell you straight off that I am completely and utterly addicted to Roger & Gallet's Bois d'Orange fragrance. When I started using the gorgeously nourishing Huile Sublime from the range, I worried that I might tire of the scent quickly or even hate it altogether; I'm just not a fan of oranges or their smell unless they're sliced in a jug of Pimm's or in mandarin form atop a pavlova.
Mmm. Pavlova.
As it turned out, I was absolutely hooked from the first sniff. Far from smelling like a net bag of Florida's finest, Huile Sublime Bois d'Orange enveloped me in sensory comfort blanket that put me in mind of sunshine and warm, exotic climes, and this new hand and nail cream, €9, is a similar olfactory delight. In addition to that deliciously citrusy yet mellow Bois d'Orange scent, it's enriched with things like active plant oils in the form of extra virgin argan oil and evening primrose oil to nourish, repair, and protect the extremities.
Advertised
There's SPF15 in the mix, too, but possibly the most interesting aspect of this hand cream is the lengths to which Roger & Gallet have gone to eliminate the residual greasiness that other similar unctions can leave behind. For starters, the formula is an oil and water emulsion so that the cream, although rich and comforting, can be rapidly absorbed, and it also contains a mattifying agent to do away with any sensation of stickiness or slipperiness.
As a result, the texture takes a little bit of getting used to. Hands still feel softer and well moisturised post application, but the cream penetrates more quickly than you'd expect. Which can only be a good thing, really. The matte finish, meanwhile, feels slightly weird to the touch if you rub your fingertips together, which is a fairly minor gripe unless you're a megalomaniac millionaire from Springfield.
Two moisturised yet mattified thumbs up from me!