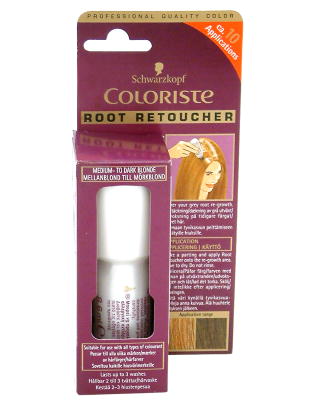 Ages ago now we had an Ask & You Shall Receive from a lady who was looking for a nifty little product called Roux Tween Time, which she used between dye jobs to do sneaky root re-touching. It's a great idea, and as you're all blathering today about hair and dyes, I decided to dig this post out of my drafts, where it's been languishing for quite some time.
Schwarzkopf also do a similar product called Coloriste Root Retoucher. It's a pen shaped wand that you can use to literally re-colour greys in between dyes. I think something like this is actually an essential if you're aiming to cover grey hair - nothing like a lovely sight of some bright shiny roots to spoil the illusion!
Advertised
Each application lasts up to 3 washes as well, and it's suitable for use with all dye brands, which is great. It comes in 6 shades (Medium to Dark Blonde, Warm Red, Intensive Red, Red Brown, Medium to Dark Brown, and Black) and you'll get it from Boots for about €14.