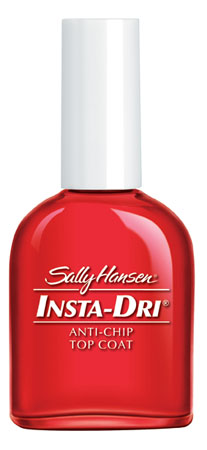 My trusty bottle of Seche Vite has gone seriously gloopy of late. Sigh. While I do have a stable of other decent enough nail varnish top coats to fall back on in the face of such calamity, I found not having a fast drying top coat at my fingertips (har har) to be a real nuisance. Because even when I do my DIY manicures in front of the telly hours and hours before I need to use my hands again, without Seche Vite I end up with inexplicable smudges and dents and lumps gone out of my freshly applied polish.
Remember The Worst Witch series of books? Remember Mildred? Well, sometimes I think that I'm quite like Mildred. Just even less elegant and clumsier and more accident prone, which is why I rely on fast drying top coats to get my polish dry before I manage to ruin my manis.
Fortuitously, a bottle of Sally Hansen Insta-Dri Anti-Chip Top Coat, €5.93, had winged its way to my desk. It made lots of exclamation heavy promises like "Dry ANY nail colour in 30 seconds!" and "Out the door in a flash!" and, yep, it is pretty good stuff.
Advertised
It's super shiny and does leave polish touch dry in half a minute - provided just two thin coats of colour are used, they're allowed to dry between coats, and you wait two minutes before applying the top coat. Otherwise it still takes 15 or 20 minutes for everything to really dry, and it's for that reason I'll likely replace my Seche Vite - it can be lobbed on atop multiple thick coats of colour that have been applied in quick succession and dry the whole lot in moments.