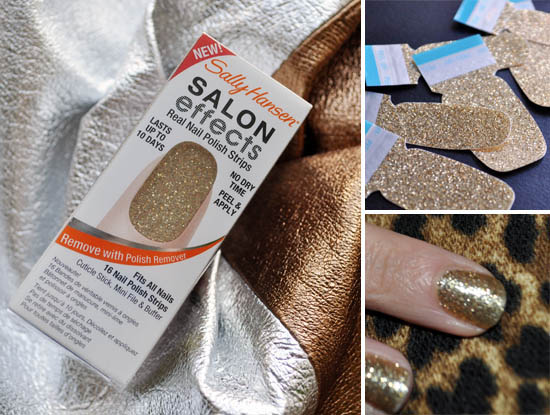 Last week we had the fall-on-the-floor-and-kick-yer-heels-up news that Sally Hansen's hotly anticipated Salon Effects Real Nail Polish Strips would be landing on our shores come the end of October and will be available at the usual stockists. By means of deduction, skill and looking at a calendar, I have ascertained that that's just about one month away, therefore allowing for the saving of multiples of €8.95, which is what each pack costs.
Happily, the brand couriered me one at the end of last week and of course, I, ever dedicated to the bid'ness of beauty, tried them over the weekend. To start, we're getting nine of the available patterns and shades; a mix of metallics and prints to include floral, lace and leopard. I got Glitz Blitz (which immediately made me think of blogger Fitz n Bitz, I think she needs to make these her signatures!), which are essentially golden glitter, and which pleased my inner magpie heartily.
Now, these differ from Minx or nail wraps in that they're not plastic and you don't have to heat-seal them; you pretty much press 'em down and they're stuck, if you want to remove them you just wipe them back off with regular polish remover. They're exactly like Incoco, which was available in Ireland a few years ago and which was absolutely brilliant. Salon Effects Nail Polish Strips have the edge though, because of the patterns.
In each pack you get 16 nails, an orange stick, three-sided buffer/file and an instruction sheet. Read it! You do need to prep nails before you apply the stickers or they won't adhere properly so you've got to lightly buff them and swipe them with some remover to make sure surfaces are completely oil-free and perfectly prepped.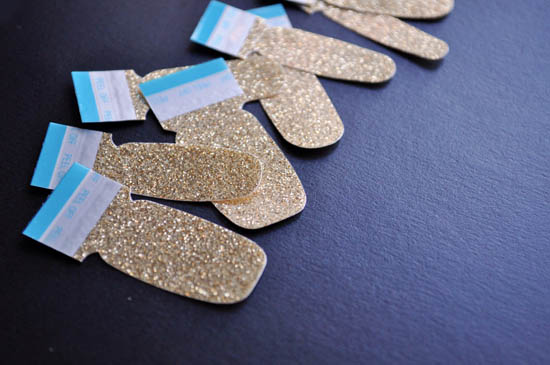 Utterly eager to get going, I shook out the 16 individual nails to get some pre-application sizing-up going on, and I have to say, the sizes of the nails are kind of odd. The idea behind giving you 16 isn't so you can do multiple applications - it's to accommodate the fact that we all have different finger and nail sizes.
However, the pack includes loads of really big ones and not enough smaller sizes, so I was a bit stuck until I remembered some comments left by gals who'd already used these - the strips are long, so if you're careful in application you can get two nails out of one strip. That takes care of that problem for me, and left enough to do my toes as well, if I was so inclined. Toes and fingers for €9.55? Not bad, to be honest.
So, what exactly do you do?  Once you've buffed and wiped nails with remover, here's what I did: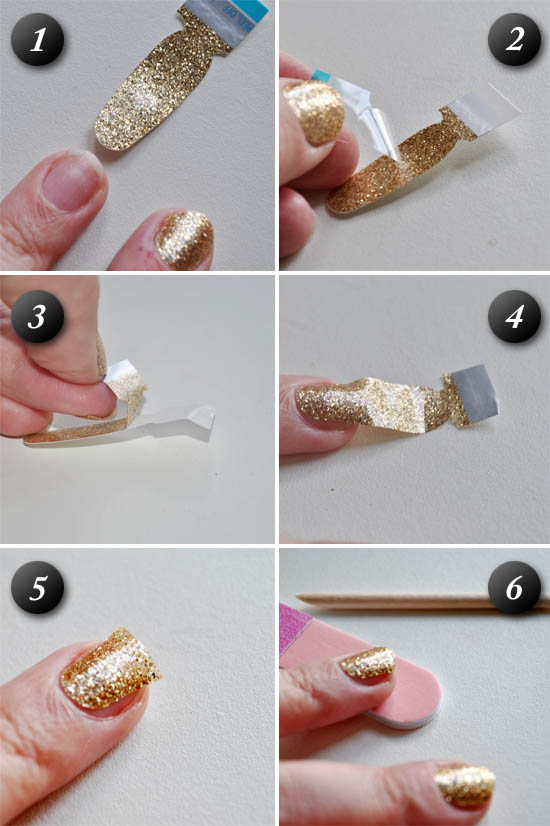 Advertised
Firstly, before you get anywhere near applying them to your nails, measure them up to see what size will fit each finger
Each strip has two peelable surfaces - a clear top layer you take off first, which protects the polish surface, and a backing which protects the sticky back. Firstly, peel off the clear top layer
Now, peel the nail strip itself off the backing
Hurrah! You can finally press it onto your nail - as you press, stretch it slightly to get it into place - this helps it stick and stay better. You'll have loads hanging off the end (and you're meant to have broken off the grey tab at the end but it doesn't really make any odds if you leave it unless you want to use the other half for another nail; in my case I did), so snip it close in to the top of your nail
Much like this, in fact.  Before you go any further, you need to do a couple of things:
Get your orange stick out and use the long flat end to smooth down the strip onto the nail bed so that it's smooth and well adhered. Then you basically need to press the top of the strip firmly down over the top of the nail and get the buffer and gently file the excess off to leave a nice neat, finished nail
Anything else? Yeah, I think you need a clear topcoat to really keep these in place, to prevent the edges catching on clothes and lifting and to cut down on tip wear, but they're blimmin' well genius. The above steps might look like a faff but you'll have 10 digits adorned in under five minutes and they'll look absolutely perfect to boot, plus the glitter is smooth and not remotely grainy. If you're one of those people who cannot keep polish on the nail bed and gets it all over their fingers too or you can't manage that neat gap between the cuticle and nail to save your life, then these are frigging genius - they do it all for you. Ace.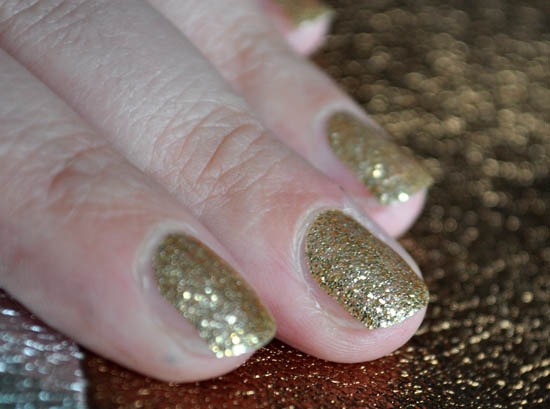 So, here's the finished result. So tidy!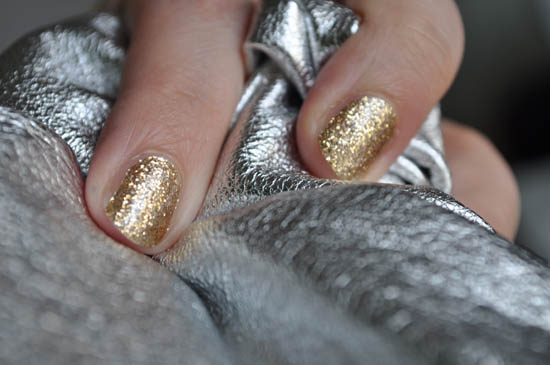 And shiny!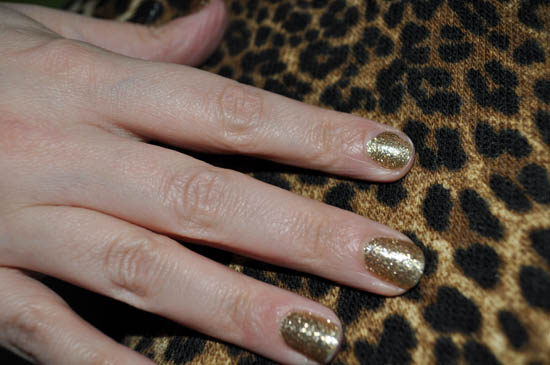 And glittery!
In summary, while the sizes are a bit funny and I had to do a bit of a workaround to get them to fit, and topcoat's gonna be a necessity to keep the strips looking good for a few days, these are great. I'm totally sold on 'em and can't wait for them to hit the shops so I can leopard print myself up a set of digits.
Advertised
Totally deadly. (Glittery) thumbs up, Sally Hansen.