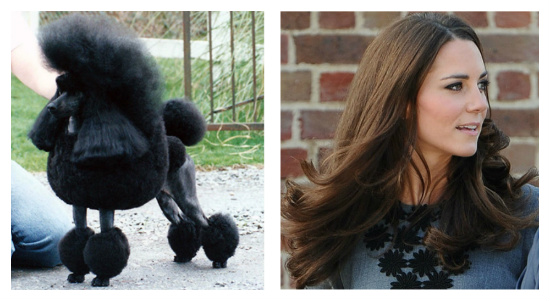 From this... to THIS!
Right so.  The Salon Virgin returns and this time I've moved on from lashes: it's time to tackle my mane of hair.  My hair is thick. Very, very thick. Yes, lots of people say it's wonderful, and sure can't I do so much more with it than those poor people with very thin hair. (And won't I be glad of it when I'm older?) But, frankly, it's a pain in the hole.
Typically, when I go to a salon, the cut is done and finished in no time. The stylist then has to spend a good 30-45 minutes battling the mane. (I think it's at the point precisely when they pick up the hair dryer that they get flashbacks and remember just how difficult my hair is to manage. I've seen it in their eyes.)  I don't really dry my hair, so much as engage in a regular ritual which I like to call "The Taming Of The Do".  I swear that every time I do battle using my hair dryer, it's like some kind of workout. It takes at least 25 minutes to get it half done (on a good day) and still ends up being a big pile of frizz.  Afterwards I need to have a little lie down and apply the RICE technique to my arms and shoulders.
So, recently I received intriguing information about the Collexia hair drying system -  a conditioning blow dry treatment which dries  hair in half the time.  Weightless hair? No struggling with a drying process for about half an hour? You can see why I was in a hurry to try it out!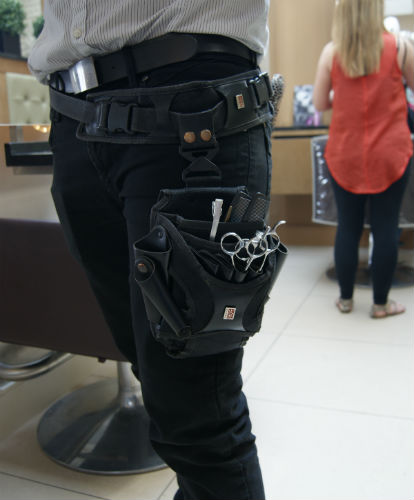 The tools of the trade: Prepare yourself, Robbie!
The Collexia system comprises a treatment in a blow dry which lasts for around five hair washes.  So it's like a medium term blow dry and is less damaging and chemical heavy then traditional long term blowdries.  The dryer has two motors, giving it much greater air flow and pressure than your average hair dryer.  All this means it's quick, and there's no need to sit under heat to activate the treatment.
The hair dryer comes apart at the nozzle. A cartridge - a kind of hydrated sponge which contains the treatment  - is held within the nozzle, and as the hair is being dried, the treatment comes out within the heated air of the dryer. They dryers themselves are quite expensive - around €140 - so they're something of an investment. As well as the Collexia Professional system, however, there's also a home use version (the Collexia Everyday Cosmetic Hair Treatment), which comes with eight treatment sponges and is a little more affordable.
Advertised
The treatment also leaves your hair feeling quite weightless, as opposed to the heavy feeling you can have when you use a product in the hair. It also claims to dry hair in half the time.
And if all that is not enough, the word on the interwebs is that Kate Middleton is a big fan. So what more could you want?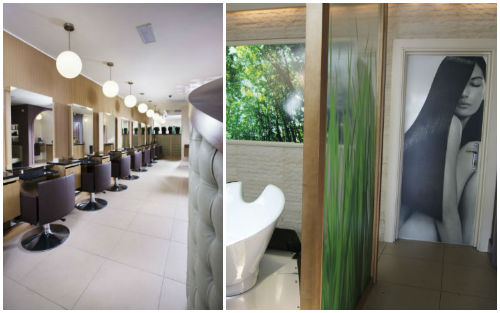 Gorgeous!
There are three options to choose from depending on the state of your gruaig: I opted for the "Beauty" treatment, which was recommended especially since I don't have any colour in my hair.
As I was sitting there, being pampered in double time, I took in my surrounds. This is one pretty gorgeous salon. Kudos to whoever they got to design the interior. I could've sat there for hours if it wasn't for that pesky efficient hair drying technology.  And it has WiFi. Heaven! The staff - and refreshments - were amazing. (I got some great tips while getting my hair washed.) Oh, and while you're  being shampooed, the chairs will massage you. I repeat: The chairs. Will. Massage you. Divine.
The Collexia blow dry is a shade more expensive than a normal blow dry at €35 a pop, but I have to admit: that's not a huge jump in price (from €27-ish) and, what's more, it worked! Afterwards, my hair was way more manageable and under control, and it felt much lighter - which for my thick mane, is quite something!
So, while it might not be a regular part of your visit to the salon, it's definitely worth remembering for special occasions, big nights out, or just for a treat. I'd highly recommend it.
Advertised
Joan was blowdryed (is that a word?) to heaven as a guest of Hession Hairdressing: 4 Vernon Avenue, Clontarf, Dublin 3. 01-8330110; 108 Upper Drumcondra Road, Dublin 9. 01-8376265