 And there we were only banging on about bobs the other day. Mind you, this is more of an undercut than a bob, so we are calling it a short shob. Which kind of sounds like a breed of sheep.

Whatever it sounds like, Scarlett has gone for the chop. Now, with her face she could go for a Cousin It style and still mange to make it look like something from the hairy catwalks of Milan, but we're wondering if she is a fan of Beaut.ie and has been inspired by some of our articles of late.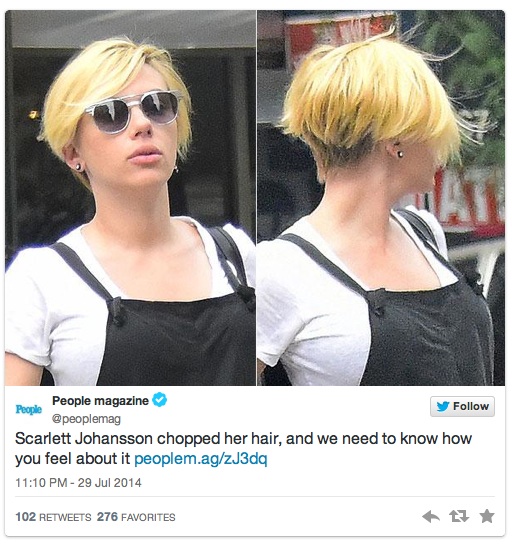 From our discussion of the bob (the hairstyle, not the builder or your man from Emmerdale) to our review of L'Oréal's Sunkiss Jelly (we were afeared that it was the new Sun-In), we suspect that Scarlett has been influenced by your comments and thoughts.
The general consensus seems to be that the colour looks a bit brassy but that we quite like the cut. All we are waiting for now is for her to leave a comment about the c string….
Advertised
What do you think of Ms Johansson's new do? Are you inspired to go for the chop? And have you changed up your hairstyle recently?