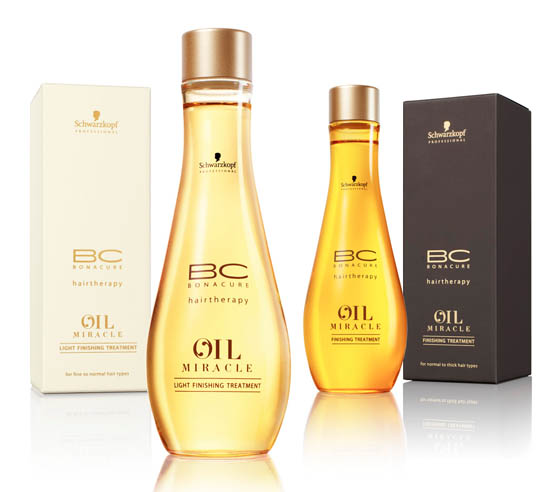 They're everywhere, these argan oil-infused hair fellers, aren't they? We've had tons of 'em on the site at this stage and here's Schwarzkopf's take on the trend, the BC Oil Miracle range. Two things stand out about this immediately: the company has launched a version for thick and unruly hair plus light, flyaway hair off the bat which is a good move. No waiting about for a product to launch if you find hair is weighed down by the traditional formulation so, and price is quite competitive for a salon brand as well - €29.99 for 100mls of product, which brings it in about €8 cheaper than its Moroccanoil competitor.
I've been lashing the heavier-duty version (it's a darker yellow, the light version is more lemon-shaded) into my gruaig for the last while and though I'm not gone on the fragrance, apart from that, this bears a lot of resemblances to Moroccanoil.
There's the usual mix of follicle-smoothing silicones and some argan oil for nourishment and this can be used on wet hair or on dry hair between shampoos to add sleekness and shine. I've used it both ways on mid and end lengths and found it performed perfectly well. I would say it's not quite as skeekly fabulising as Moroccanoil - it's about 80-85% strength by my reckoning - and my ends are fluffy again a day later, but at nearly a third cheaper, that might be a decent pay-off if your hair isn't quite as badly-behaved as mine is.
Advertised
Packaging's grand, and there's an - ugh - orifice in the bottle top so you can control the amount you pour out. It transports well also, I've taken it away twice now with nary a drop spilled.
So, where to buy? We always fall down with Schwarzkopf on this score. The only information they give is 'selected salons nationwide' which is clearly pretty useless. Can you help a gal out with stockist info? Leave a comment if you've seen it near you.