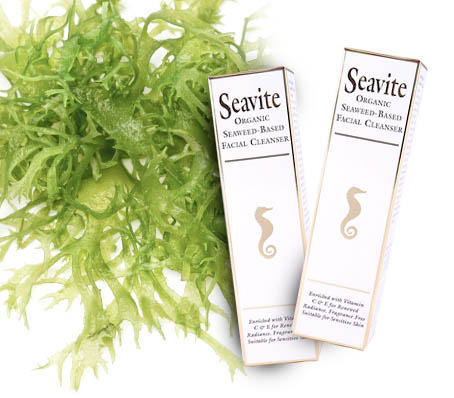 We're stranded on a little wet and windy island on the edge of Europe.  We've spent all our money. Please send help
This tweet from someone the other day during the height of the volcanic ash crisis made me break my heart laughing. (Now for the life of me I can't remember who sent it, it was retweeted to me, so please forgive the omission of the wit's name)
But it's that very isolation (ok let's forget the financial crisis for the mo) which has meant that we are able to develop some of the most gorgeous organic seaweed skincare around. We've got brands like Voya and Nadur and of course Seavite.
Now Seavite is one that kind of hides its light under a bushel. It's not that well known and is currently only available in a few outlets. (A little bird tells me that they're rebranding and the range will be more widely available soon. For now it's easiest to order online). It is simply excellent for sore, sensitive skin that is prone to red irritating rosacea. The gentle therapeutic benefits of seaweed are combined with vitamin rich vitamins and advanced botanicals to produce a natural and organic face and body range that is superb for sensitive skin.
Advertised
Read strategies for coping with rosacea here.
A couple of weeks ago someone in work asked me what she should recommend to her friend who has this very same red inflamed skin.
"Oh, Seavite" I replied instantly, not needing to think about it and barely stopping typing. "It's brilliant"
The next week work pal had received ecstatic thanks for the rec. For the first time in a long time her friend had calm, smooth skin. Seavite had instantly soothed it and taken away the redness and irritation.
"She's so pleased" I was told "She can't believe how quickly it worked"
Advertised
I did stop typing this time. To give a little "yay".
Seavite is available from selected pharmacies, Debenhams and online