 One of our new favourite skin brands have come up with a way to beat breakouts. The blemish dots are a clever way to stop spots, in their tracks.
Skyn Iceland might just have the answer to tackling troublesome spots, for good. Because, as we know, breakouts always spring up at the most inopportune moments. It could be the day before a big interview, when you're going on a date, or when you've just run out of concealer. I don't know how skin does it, but it seems to know the exact moment that you don't want it to start giving you trouble. But like a toddler having a hurricane force tantrum in a supermarket, it goes haywire anyway.
One of the biggest problems with breakouts like these is that they're usually caused by stress or hormones. Or both. When you're out of your teens, the type of spot you get through stress is usually painful and quite deep under the surface of skin (at least mine are) which means that poking at them can actually make it a lot worse. Really, all you want is for it to go away - quickly.
So, when a skincare brand says they have something to help with times of skin crisis, it seems worth investigating. And that's where the Blemish Dots come in. Recently, I've been using quite a few of the Skyn Iceland skin care products. I was always a fan of their Fresh Start mask (you can read more about that here) and went on to discover the Hydro Gel Eye patches (which are fantastic). When I was in Marks & Spencers stocking up, I noticed these and thought, why not? Worth a try!
Skyn Iceland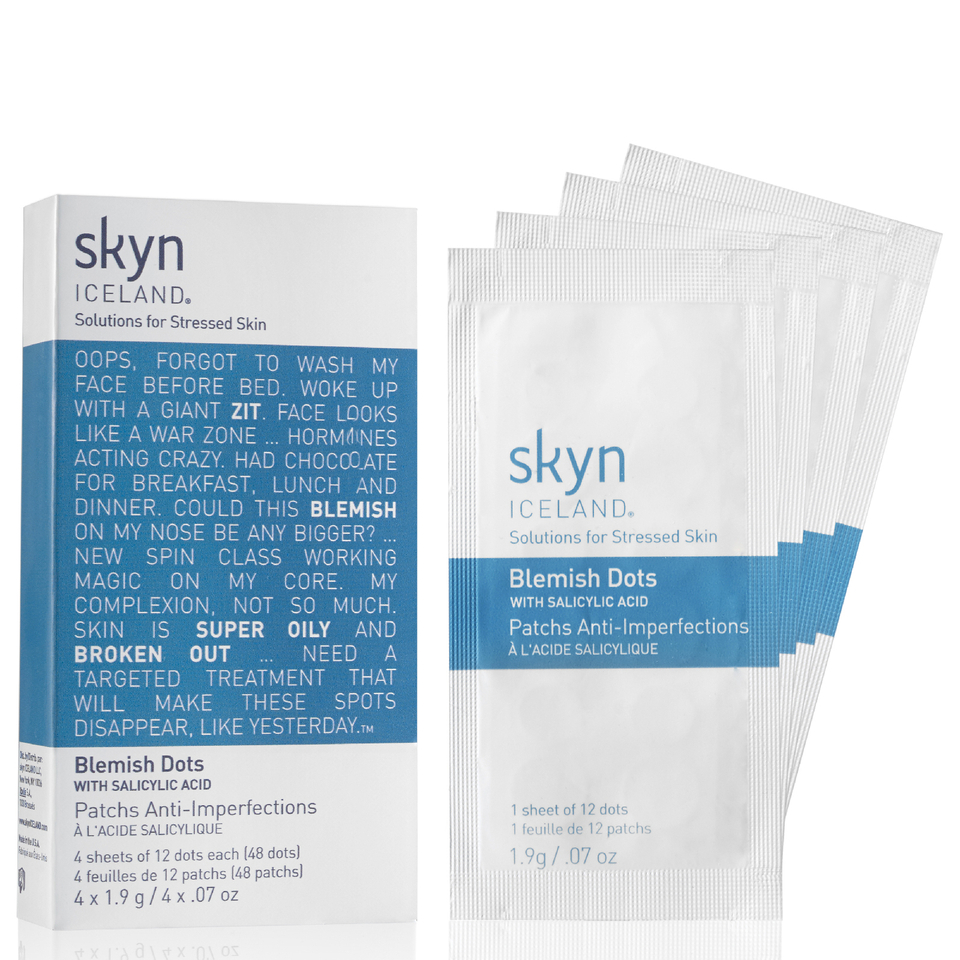 Advertised
The Blemish Dots with salicylic acid come in a box with four sachets. Each sachet contains a sheet with 12 dots on it (six are small and six are larger). The dots are clear and look almost invisible when applied. I used a couple before I went to bed as an experiment to see if they'd migrate while I was sleeping.
In the morning they were still exactly where they were meant to be. Not only that, but they'd visibly improved and reduced all redness of the offending spots. The dots contain salicylic acid, but unlike a lot of spot zapping products with that, these don't damage the surrounding skin (which in turn can make it more obvious when you go to put concealer on it).
Overall, I'm impressed with how discreet these are, and also how well they work. I'll definitely be keeping some for myself and popping a couple into my makeup kit bag for emergencies.
Do they sound like something you'd try? Or do you have another method for banishes spots?