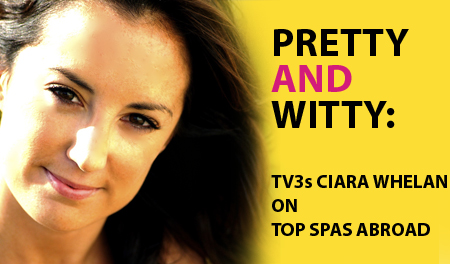 I was watching The Holiday Show on TV3 on Friday evening and giggling away - presenter Ciara Whelan is a natural and reminds me of the zingy, eyebrow-raising cheekiness that Lucy Kennedy had when she presented the Ex Files a few years ago. She was running rings round her co-presenter Jon Slattery too - in a segment on biking in Fuertaventura, she challenged him to a race. Once he was competitively cycling off in an attempt to beat her, she grinned to camera, turned her bike around and free-wheeled back the way they'd come. What was she up to? She'd booked herself in for a manicure, was what.
Girl after my own heart.
So when TV3 told us that Ciara would like to share a few of her top recommendations for spas abroad with Beaut.ie, we thought it'd make for excellent advice.  What does this pamper-tastic lassie rate? Read on!
Real Spa Thalasso at the Grande Real Santa Eulália Resort and Hotel Spa, Albufeira, the Algarve, Portugal
The Grande Real Santa Eulália is the perfect resort for a chilled-out spa break with your other half or a group of the girls and, even if you're in the Algarve and not staying in the hotel, you can avail of their amazing thalasso spa.
In the Algarve they are huge on Chocotherapy - not the type we usually benefit from on a Friday night in front of the TV with a giant bar of Fruit and Nut - but rather being smothered in the stuff. OK, so the chocolate they use isn't edible but, besides it smelling really nice as you're covered in it, there are some health benefits to the cocoa mixture too. The chocolate is rich in mineral salts - iron, magnesium, phosphorus, potassium and calcium. It has vitamins, anti-oxidants and a little caffeine that helps slimming!
Advertised
Thalasso Center at the Princesa Yaiza, Suite Hotel Resort, Playa Blanca, Lanzarote
The Princess Yaiza is a great place to holiday if you've got kids. While the kids go crazy in 'Kikoland' you can pay a little visit to the hotel's Thalasso Center and they've got all the treatments you can imagine! I decided to try the Cleopatra bath, a 15-minute treatment in a hydromassage bath with the added extra of milk. The bath is rich in the milk protein and some marine collagen and your skin is definitely more moisturized afterwards. Perfect for hitting the sun lounger again!
Talise Wellness Centre at the Madinat Jumeirah, Dubai, U.A.E
Dubai as a whole is perfect for anyone looking for some luxurious pampering - and I don't use the word luxurious loosely! I visited The Madinat Jumeirah, one of the sister hotels of Burj Al Arab and at the Talise Wellness Centre there I tried Reiki, an alternative therapy. If I was left to my own devices, I would usually choose a treatment that is very hands-on, like a strong Thai massage, but the great thing about working on 'The Holiday Show' is that I had to try a lot of new therapies. With the chakra healing I realized that hands-off can be just as fulfilling. With the use of aromatherapy and crystals, the therapist opens your chakras and although she never touches you, it is just as pleasing as any massage. I felt like the weight of the world had been taken off my shoulders!
Caldea Spa at Andorra La Velle, Andorra
When you visit Andorra La Velle, the small capital of Andorra, you won't miss Caldea, which is housed inside a really unique building that can only be described as a big glass church. Caldea, though is in fact a 'Thermal Leisure Centre', very popular with the locals as well as visitors. Many of the visitors are, of course, in Andorra for the skiing but having been on a skiing holiday before and needing another holiday by the time I came home, visiting a spa is the perfect way to relax and to get those muscles back into working order. The thermal leisure centre is made up of many water lagoons, both inside and outside (which is lovely when the weather is below freezing), Jacuzzis, saunas, Indian, Turkish and Roman baths. The best time to visit Caldea is the evening, whether you've been skiing during the day or not. Enjoy the warm water lagoons outside as it snows and then just swim inside for the light show.
Advertised
Cheers Ciara! You can catch this cheeky miss each Friday at 8pm on TV3, as she soaks up sun, spas herself silly and generally has a good auld time. The programme is repeated on  3e at 6.30pm on Mondays, and info on each show can be found at travelchannel.ie