 A long time ago (longer ago than we'd care to remember) when we were covered in pimples that were covered in pan-stick and wearing school skirts that were rolled up thrice too high, we discovered So...?
As well as being the most used word in our teenage vocabulary - 'So...when are we going shopping for those platform runners that I definitely need. For PE. Obviously. 'So what if I failed my maths test, once the Leaving Cert is over I'll never add again!' And in response to many's the parental question or statement, a simple, 'So?' - it was our favourite, nay only, fragrance.
So...? is the smell of teen spirit. In our day we were partial to So...? Inspired (the one with the aquamarine cap) but how we would have bathed in sweet smelling glory had we been exposed to the range of So...? scents that are on offer today.
Perfect for the bright young thing in your life, you can stop fretting over what Christmas present to give that budding fashionista right now. With sweet smelling gift sets, mini stocking fillers and chic boxed pamper kits, there is a gift that's just right for all tastes.
Each gift is stylishly packaged and features best selling and new So…? scents accompanied by body lotions, body fragrances or lip balms.
Let's have a closer look: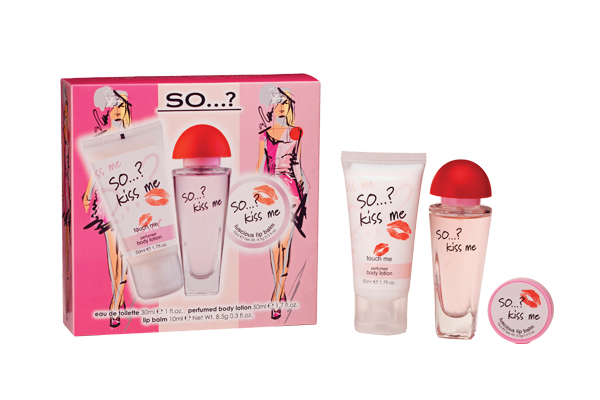 The set above – So...? Kiss Me (also available in So...? Eternal, So...? Superstar, So...? Exclusive and So...? Sinful) containing a 30ml eau de toilette, a 50ml body lotion and a lip balm. Costing only €6.95 (RRP), this is a really nice, comprehensive stocking filler. We are loving the box art!
Advertised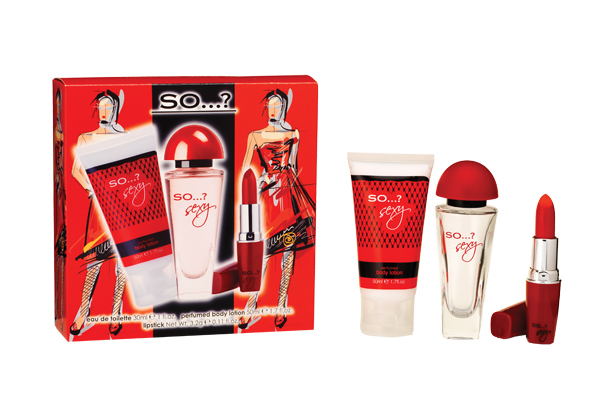 Also coming in at €6.95 (RRP) and in another lovely illustrated box, the So...? Sexy gift set features handy hand-bag sized essentials - a 30ml eau de toilette , a 50ml body lotion and a red lipstick.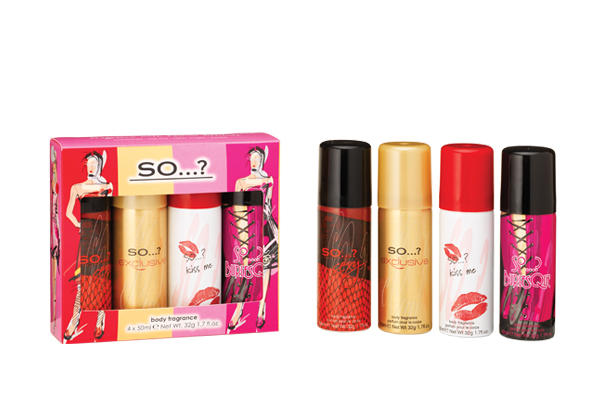 This quartet of So...? body fragrances is ideal for the girl who's always on the go! At €4.95 (RRP) it's another great stocking filler.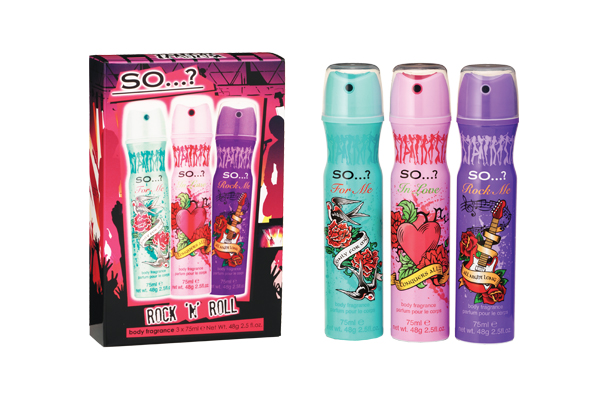 A festive stocking filler for the festival season, the So...? Rock 'n' Roll body fragrances come in the funkiest cans around! For three unique scents, the set costs a mere €4.95 (RRP.)
Advertised
The So...? range is available in Shaws Stores, Penneys, Boots, Superdrug and all good pharmacies. Visit sowithattitude.com for the full line of gift sets!
We don't know a single young one who would turn their noses up at one of these sets. Would you fill them in your loved one's stocking? Do you have fond memories of So...? Do you still spray yourself silly with a So...? scent? Let us know in the comments!