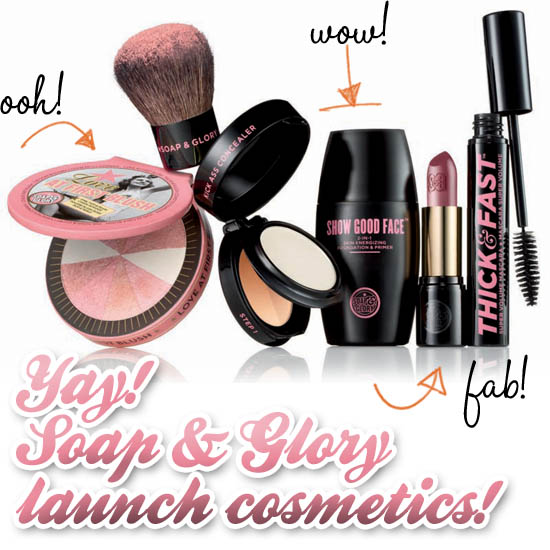 Soap and Glory has been hitting skincare successes out of the park in the last year or so - it took me more than three attempts in as many Boots stores to get my hands on the Fab Hot Pore cleanser - and while at least four of the products in the new cosmetics line were already available parceled out amongst the skincare, like the Sexy Mother Pucker plumping gloss, Solar Powder bronzer, Trick and Treatment concealer and Arch de Triumph brow pencil, they've now been enveloped into the fold of the new makeup range.
I think a lot of you might be paying Soap and Glory a visit for more than moisturiser in the near future once you have a look at this set of images; I haven't had any samples to, er, sample yet but intend to swing by a stand soon to see what's what. There are some really interesting-looking little bits and bobs on offer, prices are ok (nothing is more costly than €15) - but the exchange rate isn't amazing. For example, a £10 product costs €14 here, which is a jip.
That said, it will be interesting to see if the brand has brought the quality they did to their skincare to this cosmetics offering. Certainly, the packaging's up to muster - and with that, lets get going.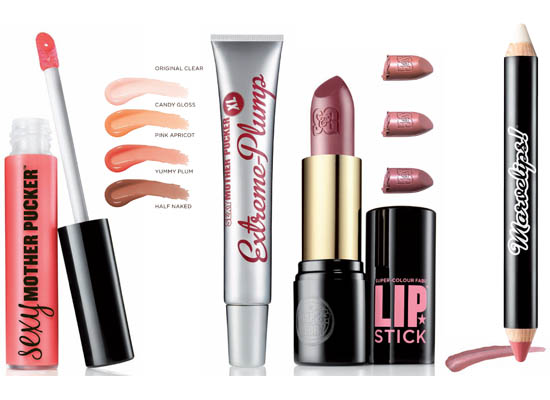 Sexy Mother Pucker Gloss will now come in four shades - original clear, raspberry, nude and shimmer pink, €12.  There's a new kid on the block too in the form of Sexy Mother Pucker Extreme Plumping Lip Gloss, €14, with even more pump-uppy-ness capabilities.
New too are Super Colour Fabulipsticks, €12, collagen-boosting lipsticks with plumping pre-peptides (no, me either) and hyaluronic acid.  Shades are naked nude, daytime pink and evening red.   Marvelips Plumping Lip Pencil, €11, providing shine and shaping, rounds out the kisser-based offering.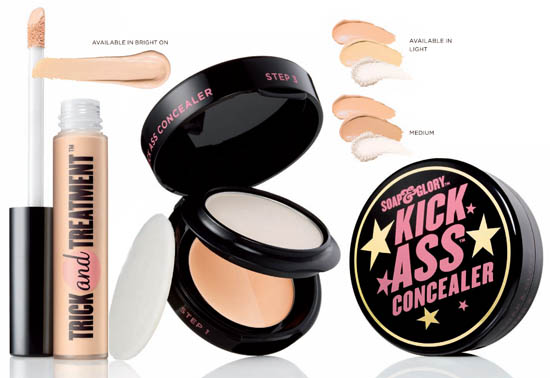 Trick and Treatment Under-eye Concealer is €12, and beside it is something that fans of Bobbi Brown's old-style Creamy Concealer will do a double-take rubber-neck at. It's Kick Ass Concealer, €14. A pod containing a triple-action concealer plus powder, it comes in two shade variations.  If it performs as well as Ms Brown's version, then it's less than half the price to boot. Worth a punt? Hopefully! Soap and Glory are very fond of proprietary technology and this contains no less than three items of amazing new ingredient based wonder in the form of PUFFEASE-8 (to reduce under eye puff) SUPERWEAR LIGHTSCRAMBLE face concealer and INSTA-FIX polymer powder technology. Ok. Right so.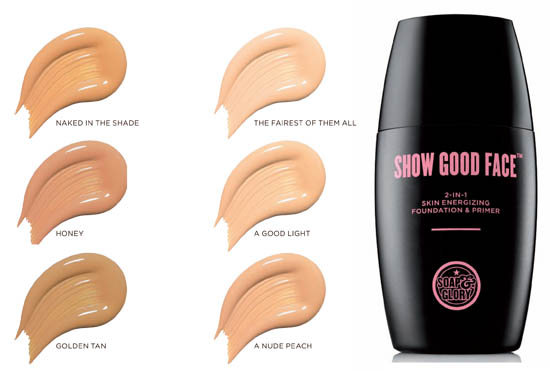 And here's our foundation offering: Show Good Face is an affordable €15 and comes in six shades. It's a two-in-one base-cum-primer apparently (you have to shake it well to activate the primer element) and promises a "dewy, bright, flawless finish." There's more tech in here like a  'retinol-mimicking' botanical rejuvenating extract and YAY! LIGHTSCRAMBLE LUMINOSPHERE!
I totally need to get me some of that.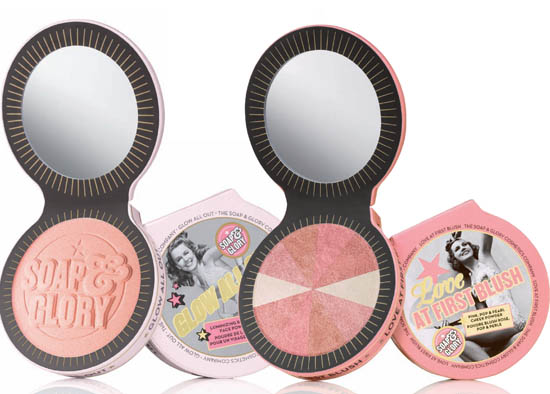 Three face powders, highlighters and bronzers are also on offer: Glow all Out, €15, is a radiance face powder for use all over or just on cheekbones and Love at First Blush, €15, is a multi-shade wheel with "a skin-smoothing emollient base and encapsulated metallic shimmer pearls, it delivers instant chic for the shabby cheek." Er, say wha?
Advertised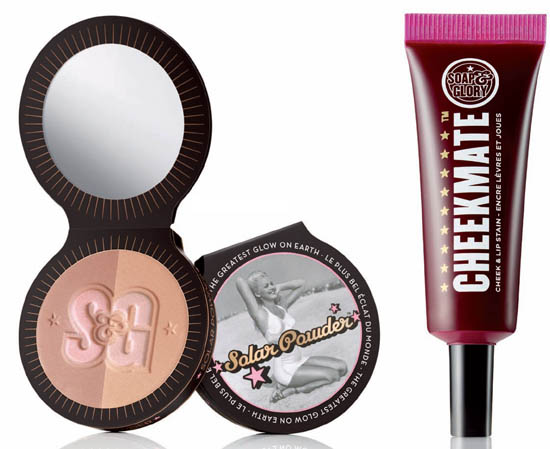 The Solar Powder, €15, is one we've already seen from the brand, but I am intrigued by what's beside it: Cheekmate, €11, is a "rosy, rub-on cheek and lip stain" with raspberry seed, kiwi extracts and vitamin c. It comes in one shade, rosy glow. Definitely one for my wishlist.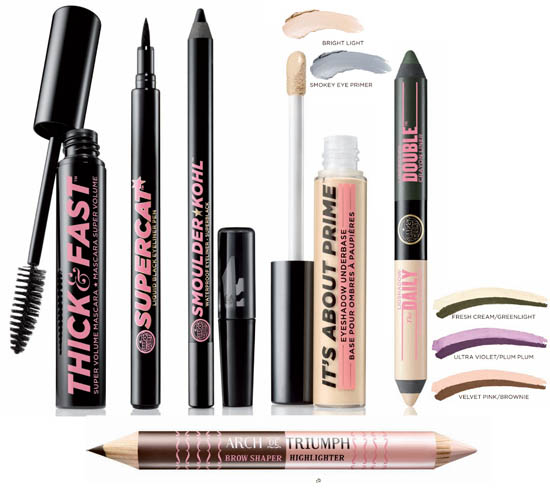 And there is absolutely loads for eyes! Like, for example, Thick and Fast Mascara, €14. A lengthening and volumizing mascara, it comes in one shade, superjet black.  Beside it is Supercat, unintentionally sounding like the Dublin-Hollyhead ferry, but which is actually a pen-style black liquid eyeliner. It's €8 and comes in carbon black extreme. There's also Smoulder Kohl pencil Eyeliner, €7, in superblack and a couple of shadow primers.
It's About Prime, €11, comes in two shades: nude and smokey - loving the idea of the smokey colour, as this gives you some colour to lay deeper colour onto. Sure, you can do the same with a smudgey kohl pencil or cream shadow but I'm guessing a lot of girls will find this really useful. It's a good price too.
Also for eyes in this shot, we have The Daily Double, €11.50, long-wear eye shadow pencils that come in double-ended pencils. There are three colour variations available: fresh cream and greenlight; ultra violet and plum plum; velvet pink and brownie.  These sound like a good bet for anyone with oily lids or who needs their eye makeup to last the day without so much as a milimetre slide - but the proof of course, will be in the wearing.
Arch de Triumph is below, €11, a brow-shaping and highlighting pencil - you may have already met this feller, it's been about for a few years.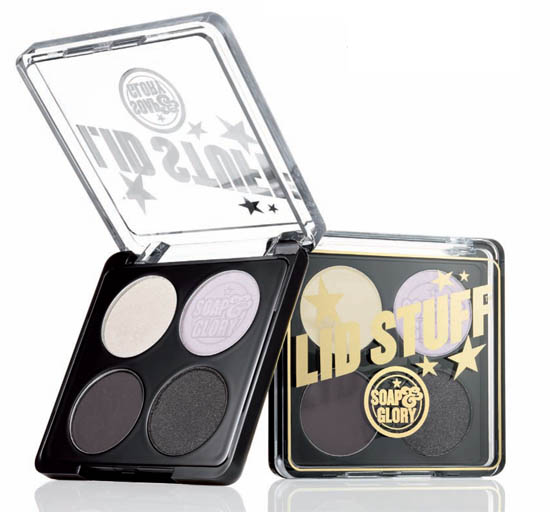 Oh, now looky here at these: This is Lid Stuff, and it's €14 for a four pan palette that promises "amazing, intense second-skin like colour finish, matte or metallic, superior creamy payoff – from a powder and eight hour wear." That's one of three shade variations on offer, Smokey Dokey, and the other two are below.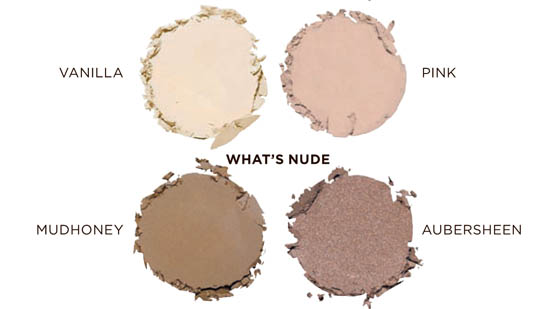 This is what's nude - and I am so totally loving the fact one of the shades is called Mudhoney.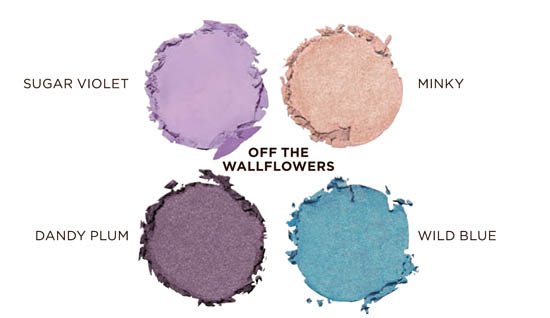 And this is off the wallflowers.
Advertised
Lastly, there's also a kabuki brush, €12, to round out the collection. I'm looking forward to getting a goo up close and personal and would imagine that the full complement may only be found at bigger Boots stores like Half Moon Street in Cork and Liffey Valley in Dublin. Have you spotted it yet? Let us know in a comment!