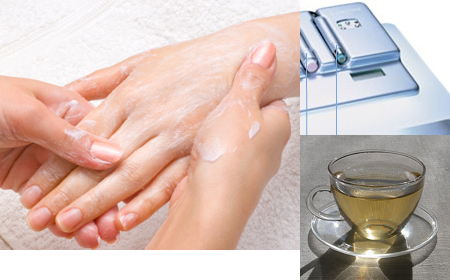 Fancy getting something for free from one of your favourite department store beauty brands? And no, I'm not talking about a limp 15ml sachet of moisturiser that's all wrong for your skintype, or that €25 makeover that's 'redeemable against products'.
While we're all sample-savvy, what you might not know is there are some brands who offer really good, useful free treatments and services at their counters, to anyone who wants to avail of them. Fancy checking out the best ones? You're in luck: they're all detailed below.
MASSAGE ME
THE DEAL: Crappy day at the office? Dublin-based stress-balls are in luck, as the brand has two Origins counters in the city and county offering the Centre Peace service. 20 minutes worth of  head massage using the mintily-calming Peace of Mind product can be had for absolutely zero outlay. That's not all – you'll also be treated to a back massage using a Jacknobber (fear not, it's just a special knobbly massage tool), a hand and arm rub and a skincare consultation.
THE DETAILS: No appointment necessary, just rock up to Origins counters at Clerys on O'Connell Street, Arnotts on Henry Street, or at House of Fraser in the Dundrum Town Centre.
SKIN SAVER
THE DEAL: Did you know that every Lancôme sales assistant is trained to give expert advice? Yup, it's true, and one of the ways they can do that is via the Diagnos Expert service. Using what looks suspiciously like an iPod, your counter consultant can attach probes (steady now) to measure hydration and sebum levels as well as skin firmness. They can even tell you the level of sun damage you've suffered thanks to a  hyper-magnified camera lens and polarised light. Warning – skin looks gross under such close scrutiny, but this is an educational (if sobering) look at your complexion and what it needs. And of course, it's totally free.
THE DETAILS: Available at Lancôme counters nationwide, the service is permanently at department stores and rotates through pharmacies – phone yours to check when it will be available.

Advertised
TIME FOR TEA
THE DEAL:  Purveyors of Auyrveda-inspired beauty and wellness products, Aveda make the at-counter experience as enjoyable as possible too. While you browse the selection of goodies on offer, you can enjoy a free cup of  Organic Comforting Tea. It's caffeine-free, made from 100 per cent organic herbs and comes served up in a recycled paper cup. If you're too busy to hang about then no problem – you can even have it to go.
THE DETAILS: Available at Aveda counters at Brown Thomas Dublin and Cork and House of Fraser, Dundrum. Tea an unappealing prospect? The brand also offers a complimentary stress-relieving neck and shoulder rituals.
DIAGNOSTIC DELIGHTS
THE DEAL: Confused about your skintype and even more bamboozled about what you should be using on it? You're not alone. At Clinique,  you can avail of a bit more than the standard counter experience.  While you sit comfortably in their scientifically-monikered Diagnostic Centre, your consultant will use tools like the Clinique Diagnostic Mirror to check out your complexion concerns, and suggest appropriate skincare for your needs. The relief!
THE DETAILS: Available exclusively at Clinique's location at Debenham's Henry Street store, where an appointment is recommended. To book, phone 01 814 7200.

THAT'S HANDY
THE DEAL: Lucky ladies in Dublin and Cork can sashay up to their nearest Jo Malone counter and ask for the brand's signature hand and arm massage – excellent therapy if you've been lugging around a lot of shopping bags, eh? Choose a scented body lotion or crème of your choice and your Jo Malone Stylist will administer a deliciously-fragranced ten minute treat. The finishing touch? You'll get a spritz of cologne too. Perfectly delightful, darling.
THE DETAILS: No pre-booking is necessary, just drop in to Jo Malone at Brown Thomas stores in both cities.
GOOD FOUNDATIONS
THE DEAL: Those decent skins at Estée Lauder want to ensure that Mná na h-Éireann are wearing the correct base, and that's why they've developed their very benevolent Your Shade, Your Finish, Your Match service. The iMatch Shade Finder – which uses coloured swatches placed on a transparent sheet – is held up to your complexion, helping the assistant to decide what's right for you. Once that's all sorted, you'll get a free ten day supply of your perfect foundation shade to trial at home. Can't say fairer than that, really.
THE DETAILS: No appointment is needed, just arrive at your local Estée Lauder counter (at department stores) and request the service.
THE GOOD SKIN GUIDE
THE DEAL: An integral part of a Dermalogica facial is face mapping, a technique that allows your therapist to assess your skin, identify its concerns and prescribe appropriate skincare for use at  home. It's a really useful tool that can help you to understand your skin better – and therefore treat it the right way.  Taking about 20 minutes, the service is free at the Metro Medi Spa, downstairs at Toni & Guy on Dublin's Clarendon Street.
THE DETAILS: Booking is advised as you'll be able to pick your time (call 01 671 4403), but you can also walk in and request the service. There is absolutely no obligation to book facial appointments or buy products.