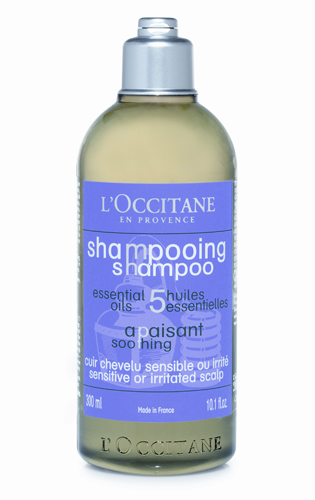 I've wondered about L'Occitane haircare in the past, particularly when they started to launch their new products, so I was delighted to see they had added a Soothing shampoo to the range. My scalp is quite sensitive and easily irritated, so I'm always interested in trying out new products which claim to combat this condition.
Designed to soothe sensitive or irritated scalps, Aromachologie Soothing shampoo, €17.50, is formulated with a combination of five essential oils and wheat proteins to gently cleanse and purify the scalp and ease irritation. That's what they say, anyway, but how did it measure up in real life testing? Here's how I got on ...
Advertised
My first impression was that the essential oils in the shampoo (chamomile, mandarin, basil, cedar and lemongrass) give it a lovely fragrance - sweet and refreshing at the same time, it lingers lightly in my hair after drying, but is not too heavy or intrusive. The shampoo is clear and lathers up nicely to help gently cleanse hair and scalp without leaving it feeling stripped and it also rinses out easily.
After washing, my hair feels soft and clean and my scalp feels quite comfortable. I have to admit that I did wonder how this shampoo would live up to its claims, as I find products containing multiple essential oils can often aggravate my scalp. But L'Occitane seem to have hit on the right combination here and I have no cause for complaint.
This is a lovely, gentle shampoo and one that I'm happy to use on my picky scalp.