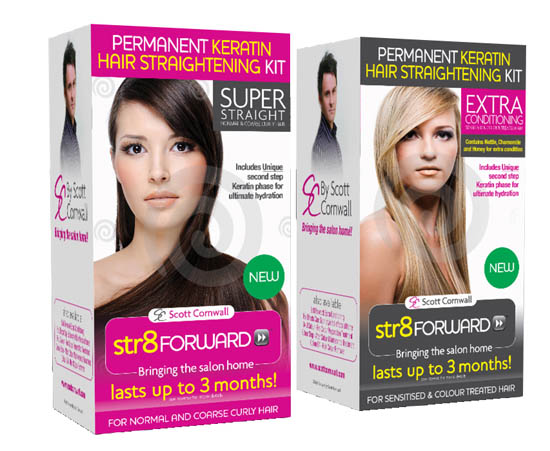 It had to happen, didn't it? Permanent/12 week/keratin treatments were always going to hit the home market at some point and that time is now. In the states, Garnier has already released a not-amazingly-well-received version, Blow Dry Protector, and now here, Colour B4 creator Scott Cornwell has just launched two TXT SPK-esque Str8 Forward Conditioning Treatments for your very own DIY usage.
You'll find Str8 Forward in Super Straight and Extra Conditioning varieties in chemists now for just €14.99. A brilliant price for something that can cost €200 in salon I reckon, so how does it work? The official bumpf says it "uses the same technology as the Brazilian blow dry," so that naturally enough made me do an immediate 'Uh Oh' - would there be a repeat of the shenanigans we saw with similar salon products late last year?
Namely, does the product contain formaledhyde? I whizzed off an email to check. No, say the brand, it's all done using keratin and collagen and there are no formaledhyde or aldehydes in the mix. Ok, we're glad to hear that.  So, what does this do?
Like its salon counterpart, Str8 Forward claims to last up to three months, tone down curls, waves and frizz, protect against humidity and help to cut down on time spent styling and drying.  Clearly though - and this applies to regular blowdrying too - two hands are always going to be better than one and applying this will be a bit of a process if the salon version's anything to go by.  I reckon for optimum at-home results, you may need some assistance, especially for getting great results around the back of your head.
And why two versions? Firstly, neither is suitable for afro hair and Super Straight is for you if you've got a non-coloured frizz-tastic, curly barnet.  Extra Conditioning can be used on coloured hair but isn't a goer if you've subjected your locks to heavy highlighting or bleaching.
Advertised
Another thing I checked with the brand was to do with how it actually straightens the hair. This product actually breaks the bonds in each strand, which (to the best of my knowledge) most salon versions pitching themselves as the 12 week blowdry don't -  they use a mix that surrounds the cuticle which wears off gradually, returning hair to more or less its original condition after a couple of months.
This essentially means that Str8 Forward is more similar to Japanese straightening techniques of old where the bonds in the hair were broken to relax waves and curls, I would think, meaning hair won't revert to its pre-treated condition after a period of time and that you'll need to re-treat from the root. But that may not be the case: this is what I am surmising from the info I've gotten and from a bit of digging online, so if you've tried it and had a fab experience, please let us know in a comment.
What do you think? Is this something you'd be up for using at home or are you happier to leave chemical treatments to the professionals?